FLW Tour pro Clent Davis, of Montevallo, Ala., brought a five-bass limit to the scale Sunday, August 12 that was the heaviest sack of the three-day 2018 Forrest Wood Cup on Lake Ouachita, Arkansas. Davis' final day weight of 17 pounds, 13 ounces catapulted him from 10th to first place and earned him the $300,000 top prize.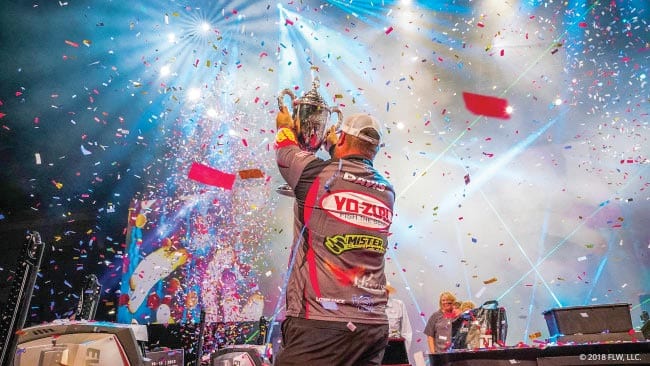 With a three-day total of 15 fish and 36 pounds, 13 ounces, Davis beat out second-place Cabela's/Bass Pro Shops pro James Niggemeyer, of Van, Texas, by more than seven pounds.
"I don't believe that I just won this," said Davis, a former FLW College Fishing standout for the University of Montevallo. "I almost walked away from professional bass fishing last year. I was burned out on fishing. I sold all of my gear – my boat, all of my rods, my reels, every piece of equipment that I had. It wasn't from failure, it was because I was burned out.
Davis' decision to rejoin the tour—after some prompting by FLW Tour Senior Tournament Director Bill Taylor—was definitely the correct one. He subsequently finished the season ranked No. 25 in the Angler of the Year race—his best finish since his rookie season. He cashed checks totaling more than $62,000 in seven events and qualified for his third Forrest Wood Cup appearance.
"I knew that the only way that I was going to win this week was fishing brushpiles," Davis said. "There are so many ways to catch fish on this lake, but if it was going to happen for me, it was going to be offshore, fishing out of the brush."
Davis relied on a 12-inch, plum-colored Mister Twister Mag Buzz Worm fished in the 22- to 30-foot depths.
"I fished awful all week, losing fish, but I caught enough to squeak into the top-10 by 1 ounce," Davis said. "I'm not supposed to win coming out in 10th place, so I went out today and just had fun. I had an incredible day on the water today and finally got lucky, catching my 5-pound kicker. I guess it was just my time."
2018 Forrest Wood Cup Winners
The top 10 pros at the 2018 Forrest Wood Cup on Lake Ouachita finished:
1st: Clent Davis, Montevallo, Ala., 15 bass, 36-13, $300,000
2nd: James Niggemeyer, Van, Texas, 14 bass, 29-9, $60,000
3rd: Berkley pro Justin Atkins, Florence, Ala., 15 bass, 28-12, $50,000
4th: Nick LeBrun, Bossier City, La., 12 bass, 28-6, $37,500
5th: Jason Lambert, Michie, Tenn., 15 bass, 27-15, $30,000
6th: Zack Birge, Blanchard, Okla., 15 bass, 26-13, $24,000
7th: Wes Logan, Springville, Ala., 11 bass, 25-9, $23,000
8th: John Cox, DeBary, Fla., 13 bass, 24-7, $22,000
9th: Brandon Cobb, Greenwood, S.C., 12 bass, 23-1, $21,000
10th: Bradford Beavers, Summerville, S.C., nine bass, 20-8, $20,000
Full results for the entire field can be found at FLWFishing.com.