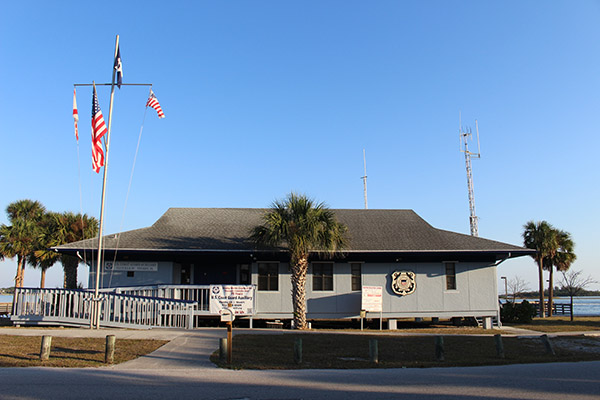 Sandsprit Park, located on the doorstep of U.S Coast Guard Auxiliary Flotilla 59, is one of the most popular boating areas in Martin County. Flotilla 59's facility has been at the location since 1986, however, its history dates back 75 years to April 11, 1942.  Born during the first part of World War II, when German U-Boat activity was suspected off the South Florida shores, Flotilla 59 members have been on duty ever since. These members rode horseback along the Treasure Coast Beaches, manned the tower at the House of Refuge on Hutchinson Island, and served as off shore patrols.
This all civilian arm of the United States Coast Guard provides boating safety classes, vessel safety checks and still provides routine patrols along the waterways. The Flotilla 59's missions provide more than 400 hours of community service, more than 400 vessel safety inspections, more than 150 hours of boating safety courses, and more than 100 hours of safety patrols annually.
Throughout 2017, Flotilla 59 will continue to serve the community with various celebrations.  Martin County and the City of Stuart will present proclamations to the organization for its service and in turn, the Flotilla will thank the community with an Open House and Community Appreciation Cook-Out on Saturday, April 29th from 10 a.m. to 2 p.m. in Sandsprit Park, Stuart. The Martin County Sheriff's Barbeque Grill Team will be manning the grills. The cook-out is free to the public.
For more information, contact the Flotilla 59 at Flotilla 59@gmail.com or www.uscgaux59.org, or call (772) 288-0509.