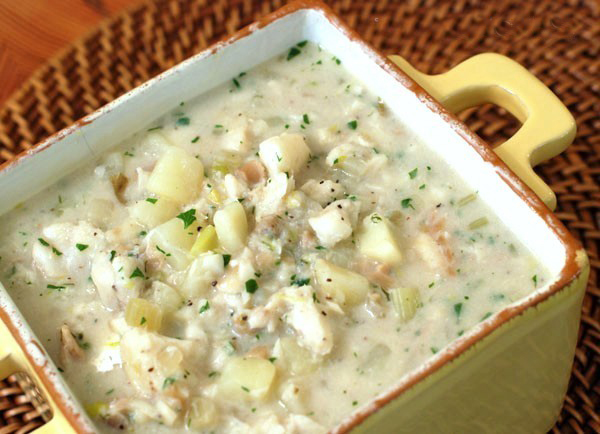 Got grouper? Here's a great recipe for that fresh catch, courtesy of Crab-E-Bills Indian River Seafood.
Chowder Ingredients
1 large baguette, thinly sliced
1/4 cup plus 2 tablespoons olive oil
10 garlic cloves, 9 thinly sliced and 1 halved
2 large onions, thinly sliced
1 large pinch of saffron threads
1 1/2 teaspoons ground cumin
1 teaspoon sweet paprika
1/4 teaspoon cinnamon
1/4 teaspoon cayenne pepper
1 tablespoon honey
2 tablespoons tomato paste
4 cups bottled clam juice
2 cups dry white wine
3 cups water
3 pounds Yellow Finn or white new potatoes, peeled and cut into 3/4-inch chunks
Salt and freshly ground black pepper
4 pounds skinless grouper fillets, cut into 2-inch chunks
Rouille (recipe follows below)
Preheat the oven to 350°. Spread the baguette slices on a baking sheet and brush with 1/4 cup of the oil. Bake for 10 to 12 minutes, or until golden. Rub the croutons on one side with the halved garlic.
Heat the remaining 2 tablespoons of oil in a large pot. Add the sliced garlic, onions and saffron and cook over moderately high heat, stirring, until the onions soften, about six (6) minutes. Add the cumin, paprika, cinnamon and cayenne and cook for two (2) minutes. Stir in the honey and tomato paste and cook until lightly caramelized, about four (4) minutes. Add the clam juice, wine and water; bring to a boil.
Add the potatoes and cook over moderate heat until tender, about 20 minutes. Transfer 3 cups of the potatoes and onions to a blender along with a little of the broth and puree until smooth. Stir the puree into the soup and bring to a boil. Season with salt and black pepper.
 Just before serving, add the fish and simmer just until it flakes easily. Ladle the chowder into bowls and pass the croutons and Rouille separately.
MAKE AHEAD: The chowder can be prepared through Step 3 and refrigerated for up to 2 days. Bring to a simmer before adding the fish.
Rouille Ingredients
1 garlic clove, smashed
Salt
1/4 teaspoon saffron threads, crumbled
1 tablespoon fresh lemon juice
1/2 teaspoon cayenne pepper
1/2 cup mayonnaise
1/2 cup extra-virgin olive oil
1. On a work surface, mince the garlic with a pinch of salt. In a mini-processor, combine the garlic with the saffron, lemon juice and cayenne and pulse until blended. Add the mayonnaise and pulse until smooth. With the machine on, add the oil in a thin stream and blend until emulsified. Transfer the rouille to a bowl and season with salt.
MAKE AHEAD:  The rouille can be refrigerated for up to 3 days. Serve with Grouper Chowder.
Recipe source: Crab E Bill's Indian River Seafood.