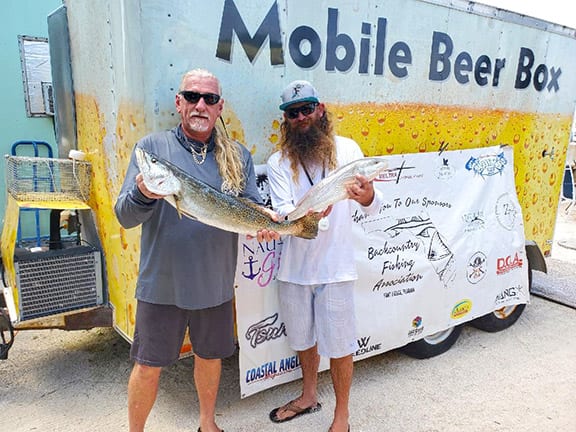 The Backcountry Fishing Association's July tournament took place on the Fourth of July. It was another hot summer day and 31 boats checked in and 17 boats checked out. A total of seven redfish and 13 trout were brought to the scale.
Father and son, Kyle and Rich Engelmann pulled off a first-place finish with a 6.97-pound trout 6.97-lbs and a 3.19-pound redfish, for a total weight of 10.16 pounds earning a nice payout of $581.25. The team also won the trout Calcutta earning an additional $210.
David Young took second place with a 2.83-pound trout and a 4.20-pound redfish, a total weight of 7.03 pounds, earning $348.75.
Mason Urso and Mark Treling caught a redfish weighing in at 6.47-pounds, putting them in third place and earning $232.50, plus an additional $220 for the redfish Calcutta.
Zach Foltz and his alternate, fiancée Lorae' Simpson, took fourth place with a 5.79-pound redfish earning points. Lorae' also earned herself the title Lady Angler for the July tournament and received a Danco pliers gift set, which included a crankshaft aluminum plier, 4-inch bait knife, a 7-inch fillet knife and knife sharpener.
Justin Carnes and alternate Bill Halladay took fifth with a 5.34-pound trout, earning points.
About the Backcountry Fishing Association
The Backcountry Fishing Association is a nine-month circuit, which runs from January through September, finishing with its two-day Classic in October, where the top five teams will compete on day two for a grand prize and cash. Teams must fish in at least five tournaments to be eligible to fish the Classic.
The artificial lure only tournament gives two-person teams and solo anglers monthly opportunities to win cash and earn points. Redfish, trout and snook (seasonal) are the qualified species.
Anglers attempt to bring one legal fish of each species to the scales for weigh in and live release.
Membership fees are $25 for the year. To enter the tournament each month, the fee is $60 per team.
The next tournament will be on Saturday, Sept. 5 with the captain's meeting being held on Friday, Sept. 4.
For more information, visit the Backcountry Fishing Association on Facebook.