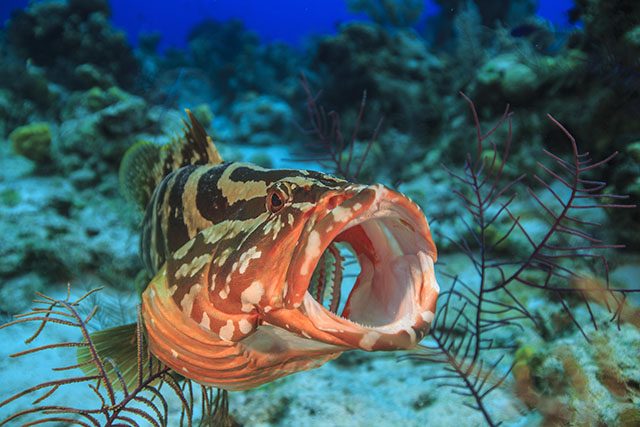 By: Olivia Patterson Maura
Why are fish important? They are a critical food source for human communities around the world, however have you ever thought about what fish do for their own communities?
Further research has led us to a better understanding of the roles fish play in coral reef environments. We all know that fish are important members of the food web by being predators of and prey for other fish, but did you know that they are also responsible for helping coral reefs grow? A project by Jacob Allgeier, Abel Valdivia, Courtney Cox and Craig Layman recently published in Nature Communications investigates this interaction and how it can be affected by fishing.
In nutrient poor areas, like the clear waters where coral reefs typically grow, the ecosystem relies on nutrient input from animals, like fish. Think of it like a farm – fertilizer (nutrients) is required for produce to grow well. Same on a coral reef! However, too much or the wrong kind of nutrients can lead to problems for reefs (think of the potential effects from agricultural runoff where algae may overgrow a reef). Not enough nutrients and the ecosystem can still be put out of whack.
Like any other animal, when a fish eats it has to excrete! The authors use the term "fish pee" to describe this excretion. So how on earth do you measure pee in a fluid environment? This involves putting individual fish in a zip lock bag filled with sea water and measuring the nutrient content of the water before and after a set time period. In this way, Allgeier has been able to catalogue the relative contributions of a number of fish species that live around coral reef habitats. But it's not just the species of fish that counts, or the number of fish, but the size of individual fish. Larger fish are able to contribute larger amounts of nutrients to their environment.  This means that the fish we preferentially catch, because it's a bigger bang for our buck, are also the most important contributors of nutrients to coral reef environments. So, when we fish out all of the large fish in a population, we are not only affecting their reproductive capacity, we are also making an indirect impact on the health of their habitat.
This research has implications for how we continue to manage our fisheries and coral reef habitats and recommends that nutrient cycling become an important part of any future conservation planning.
Did you find this topic interesting? Would you like to learn more about research being conducted in The Bahamas? Visit The Abaco Scientist Blog! https://appliedecology.cals.ncsu.edu/absci/
 FRIENDS is a nonprofit environmental organization devoted to preserving Abaco's fragile environment and working towards a more sustainable future. To this end the dedicated full time staff, board of directors, local and visiting volunteers and donors work together to provide educational opportunities and programs to benefit Abaco's delicate environment.
Friends of the Environment
(242) 367-2721
Website: www.friendsoftheenvironment.org
Email: info@friendsoftheenvironment.org
[easy-social-share]