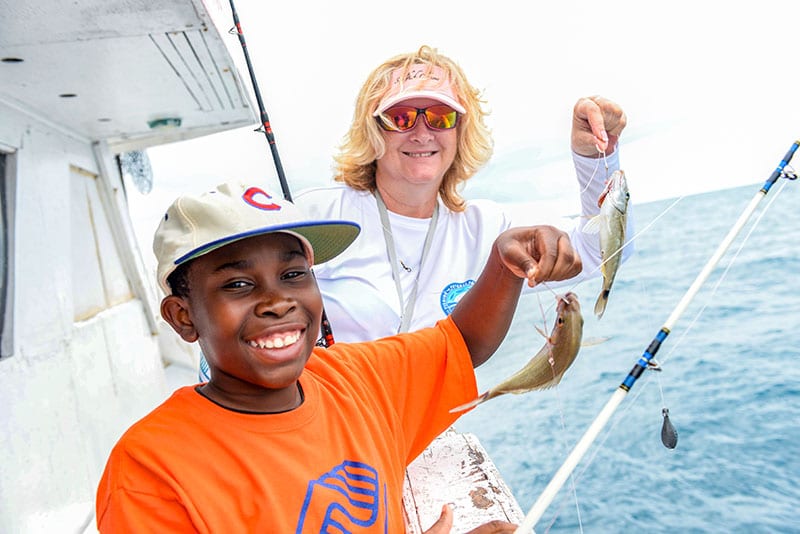 It may have been a Day for Kids but some of the adults made out well at the inaugural Fishing for Futures tournament benefiting the Boys and Girls Clubs of St. Lucie County. The tournament, founded by TRM Construction, piggybacked off Day for Kids, a national event hosted by Boys and Girls Clubs of America. The fishing extravaganza featured an inshore and offshore tournament to kick off the Labor Day weekend at Causeway Cove Marina in Fort Pierce on Saturday, Sept. 1.
Day for Kids is an event recognized for its advocacy of youth through the nationwide programs of the Boys and Girls Clubs. Clubs around the country cordoned off a little section of their universe to celebrate their youth with games, food and outdoor activities.
The Boys and Girls Clubs of St. Lucie County's little section of the universe took place at Causeway Cove Marina in Fort Pierce. With several acres set aside for the kids' activities in bounce houses, water slides, and a kickball field, there was no shortage of space for them to run and play. A group of dancers from the club's Chuck Hill Unit performed their choreographed routine to the crowd at fishing tournament weigh-in.
Club kids were also treated to some time on the water for fishing, some enjoying a morning or afternoon excursion with chaperones on the deep-sea fishing charter boat, Fort Pierce Lady, a deep-sea fishing charter boat. Some of the junior anglers had never fished before or even been on a boat.
The marina's location was a double-edged pleasure as this year's event was shared with Fishing for Futures. Following a day of fishing, the boat captains started coming in mid-afternoon with their competitive catches to see who would walk away as the fishing champion of the day.
One of the event sponsors earned a trifecta of fishing recognition by taking the first, second and third place spots in the inshore portion of the tournament. Backcountry Fishing Association's Derek Engel and Daren Frost took first place with an amazing 95.5-inch overall length of their fish that were caught and released in the inshore tournament. Lewis Arnold and Jason Bailey took second place with an impressive 87.5-inches, and Lorae Simpson and Zach Foltz took third place with 71.5-inches.
The offshore division started out with some high winds and whitecaps but that didn't deter the captains who had their eyes on the prize. Of the three fish allowed for the tournament, only the kingfish was getting hooked. It was T.J. Keifer and Tony Vercillo earning the top spot $3,500 prize for their 27.4-pound kingfish.
"The event was a success because of the sponsorship partnerships with TRM Construction, the Law Office of Villafranco and Garcia, Southern Eagle Distributing, Bonner Bar, Paella King, DLF Media, and UBU Brands. Our staff that has worked on this for the last several months. We gave the kids a day of fun, memories to keep and planted the seed for how they should work with children when they are in our position one day," said Will Armstead, CEO of the Boys and Girls Clubs of St. Lucie County.
The Boys and Girls Clubs of St. Lucie County is a nonprofit organization dedicated to providing youth with a world-class Boys & Girls Clb experience, assuring that success is within reach for every young person who walks through its doors, and that every club member graduates from high school with a plan for the future, demonstrating good character and citizenship and living healthy lifestyles. The club enables all young people, especially those who need it most, to reach their full potential as productive, caring, responsible citizens.
With 19 locations throughout St. Lucie County, Boys and Girls Clubs programs serve a diverse group of kids, 5-18. The 3,000 members come from a variety of backgrounds. For more information, call the organization at (772) 460-9918, or visit www.bgcofslc.org online.