Lobster hunters and lovers, send in those lobster recipes! Here's a Fresh From Florida recipe that'll make your sea harvest look (and taste) like a piece of culinary art!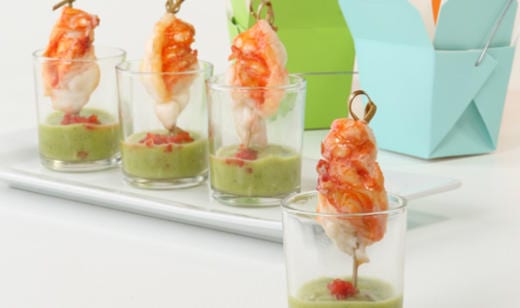 Ingredients:
2 (9-ounce) Florida spiny lobster tails, removed from shell and cut into 1-ounce bites
1/2 Florida red bell pepper, diced fine
1/2 Florida avocado
20 (3-inch) bamboo skewers
Canola or olive oil for cooking
2 limes, juiced
Sea salt and fresh ground pepper, to taste
Preparation:
Preheat a medium-sized sauté pan over medium-high heat. Skewer each lobster bite onto the bamboo skewers and lightly season with salt and pepper. In a blender or food processor, add avocado, lime juice and season lightly with salt and pepper. Puree the avocado mixture until smooth, adding 1 tablespoon of water at a time until the desired thickness of avocado puree is reached (the avocado puree should be smooth and creamy and should be thin enough to pour into a small bowl or shot glasses). Add 1 tablespoon of the cooking oil to the hot pan. Carefully add the skewered lobster bites to the hot pan being careful not to overcrowd the pan. Cook lobster bites for just 30 seconds on each side (the lobster bites will cook quickly so it is important to keep a close eye on them). Once the lobster bites are cooked, remove them from pan, and let drain on a paper towel. Repeat the cooking process until all the lobster bites are cooked (this cooking process can be done ahead of time and the lobster can be served cold if desired). To serve, arrange the lobster bites on a plate with a bowl of avocado puree, or add a small amount of avocado puree into the bottom of several shot glasses and top each glass with the cooked lobster bites. Garnish the lobster bites with the fine diced red pepper.
SOURCE: www.followfreshfromflorida.com