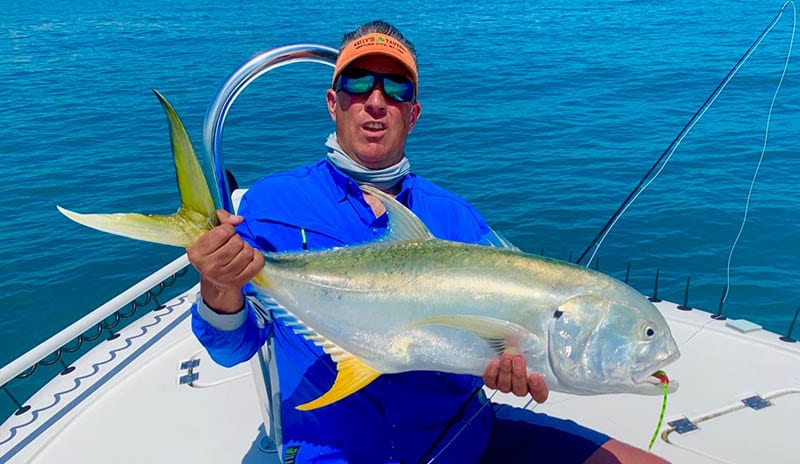 Guys (and gals), I have to share this story. It's too good not to share and I think it is a big motivation to everyone who is scared to start or become more serious about fly fishing.
A while back I fished two days with John from New Jersey. What I didn't know was that John just decided to take on fly fishing, actually two weeks before we fished together. He took a fly-casting lesson and that's it.
The first day we fished together we did some casting practice and fishing technique, which I do with a lot of my guests. John caught his first snook that day in daylight sight fishing.
The weather was great on the second day and it was an easy decision to run the beaches and look for jacks, albies, sharks and whatever we could find. A few miles in and I found a few fast-moving false albacore. To target these fast-moving silver bullets is not easy but John nails it! Wow was I impressed and excited…one down, more to go!
Next on the list (my list of course) was a big jack crevalle on a popper and after just 20 minutes cruising along the beach, I found a good size school of these brutal predators. Since I'm not using a teaser rod it took John a few tries but again, he did it. I was blown away and super excited! What a great day so far!
That day didn't give us an abundance more albies or jacks so I decided, let's set him up with the ultimate monster on the fly, a spinner or blacktip shark. Both sharks tend to jump and make most tarpon look "old" and I love hunting them.
When we arrived and set up for these sharks it took less than five minutes and John was hooked up. The first jump was 30 feet behind the boat and close to 10 feet high! What a spectacle. John fought this shark like a pro and soon we landed this brute. I love these sharks and I put a lot of pride the way I fish for them (clean fly and sight fishing)!
On the way home John told me that it will probably take a while to let it sink in for what happened today, but he also told me he will be ready for next time and he wants go for a big tarpon. I love my life and my job. Enjoy yours and go fly fishing!
The Fly Fishing Column is written by Capt. Michael Mauri, www.mauriflyfishing.com, michael@mauriflyfishing.com, (772) 485-3321.