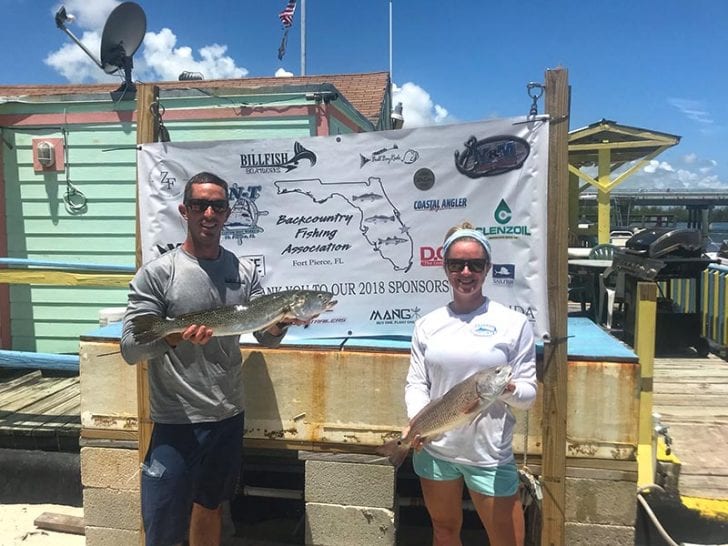 It was another hot summer day for the August BCFA tournament held August 4 out of Little Jim Fish Camp in Fort Pierce. A fleet of 19 boats checked out, and 13 trout and 9 redfish were weighed in.
Backcountry Fishing Association president Zach Foltz and first-lady Lorae' Simpson brought to the scales this month a 4.58-pound trout and a 3.29-pound redfish. A total weight of 7.87-pounds put this team in first-place. The couple also walked away with the trout and redfish Calcutta, bringing home a total of $532.50. Lorae' also enjoyed a $25 gift card from Taco Dive for being the lady angler to bring in the most weight.
Second-place angler Ryan Jouppi fished the August tourney solo and took home $199.50 for weighing in a 4.69-pound trout and a 2.87-pound redfish.
Third-place angler Andy Fantini also fished the tournament as a solo angler and brought in the biggest reddish thus far in the BCFA tournament series weighing in at 6.55-pounds.  Andy's fish earned him a check for $133.00.
Josh Pesce and Jason Gillespie took fourth-place with a 3.00-pound trout and a 2.46-pound redfish.
Tim Woodward and Carol Callahon took fifth-place with a 1.20-pound trout and a 2.79-pound redfish.
The Backcountry Fishing Association is a 10-month circuit, which runs from January through October, finishing with its two-day Classic, where the top team will win a 14-foot Billfish boat, motor and trailer combo.
The artificial lure only tournament gives two-person teams and solo anglers monthly opportunities to win cash and earn points. Redfish, trout and snook (seasonal) are the qualified species.
Anglers attempt to bring one legal fish of each species to the scales for weigh in and live release.
Membership fees are $25 for the year. To enter the tournament each month, the fee is $60 per team.
The ninth tournament of the series takes place on Saturday, September 1, with the captain's meeting on Friday, August 31.  For more information, visit Backcountry Fishing Association on Facebook.