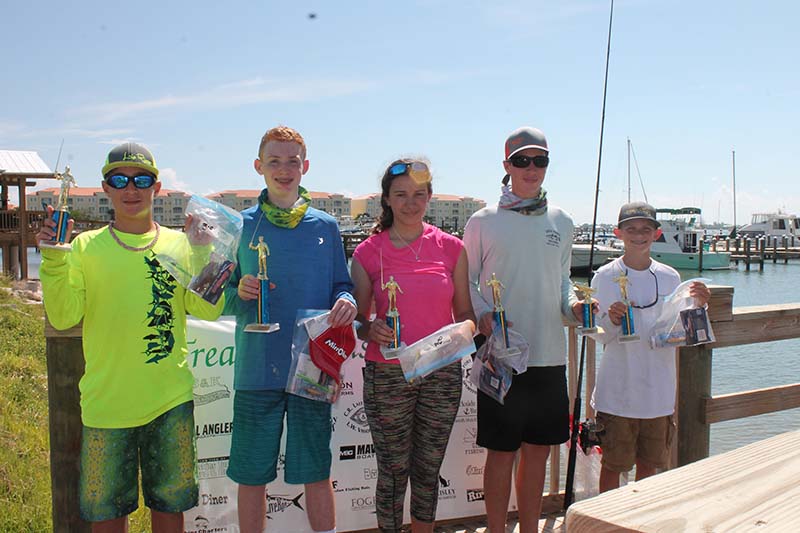 Treasure Coast Casters (TCC) held its first Senior Division inshore tournament of the 2018-2019 season on August 26. The tournament was won by Kendrick Forlifer (high school division), and Michael Rochedieu (middle school division).
Per tournament organizers Cammie and Capt. Joe Ward, "Boats departed from Causeway Cove Marina in Fort Pierce and mangrove snapper was the fish of the day. All our anglers reported catching fish, with quite a few mutton snapper mentioned, but they were undersize, along with a few short lanes."
Other species weighed included only one sheepshead, 1.4-pounder by Kendrick Forlifer, and the largest fish of the tournament, a 1.1-pound snapper, caught by Michael Rochedieu
RESULTS
High School Division
1st Place: Kendrick Forlifer – 45 points
2nd Place: Ciara Franqui – 15 points
3rd Place:  no fish weighed
Middle School Division
1st Place: Michael Rochedieu – 30 points
2nd Place: Owen Nail – 30 points
3rd Place: Nicholas Rosario – 30 points
"When we have a tie in points, the weight of the biggest fish is used to determine placements," explained Cammie Ward.
The biggest fish of the tournament, the sheepshead, caught by Kendrick Forlifer, earned the angler a trophy, and a rod and reel combo, donated by the Fort Pierce Sportfishing Club.
Both first-place winners, Kendrick Forlifer and Michael Rochedieu, received West Marine gift cards and tournament prize bags donated by MirrOlure.
Treasure Coast Casters offers experiences that educate young anglers on the importance of marine conservation, while maintaining a sustainable and healthy estuary and marine environment. The all-volunteer non-profit offers two fishing tournament divisions, a Junior Division for youth 5-11, and a Senior Division for youth 12-18. There is no cost to join or to fish a tournament. Anglers bring their own bait and fishing gear.
For the latest tournament news and updates, follow the Treasure Coast Casters Facebook page.
REPORT BY: Cammie and Capt. Joe Ward
www.treasurecoastcasters.org
(772) 201-5773