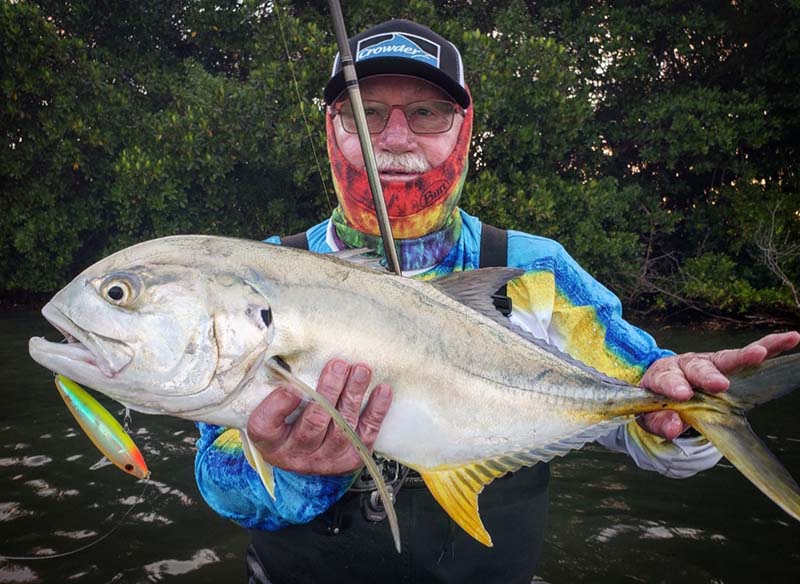 Fishing in May can consist of some jumbo jacks cruising the beaches and busting bait in the river. Early morning and late evenings will be the best time to look for these fish. Jacks are not called tackle busters for no reason! When you hook one on light tackle, they will give you the fight of your life. Having these giant predators busting all around you while wade fishing can be very intimidating. Having the fish explode on a topwater is so fun.
Also in May, you will start seeing more and more snook showing up on the flats and beaches. May can be a very interesting month for snook. They can be all the way up by the spillways and all the way out by the beaches. So, when targeting linesiders, have a variety of lures.
At the spillway, think of things that are coming over the spillway… bass, bluegill, shiners, tilapia… this would be something to think of when choosing the right lures. Fishing the beaches, it will be different baits. Mullet, greenies, croakers and shrimp will be the baits you want to imitate.
Keeper snook will be 28-inches to 32-inches with a pinched tail. Some days will be easier than others but always try to learn something when you are on the water. If the sky is very blue and the water is very clear, you might have to resort to live bait.
This is a great time of year to get out and do some fishing, You may even consider going at night! Looking for and finding a good moving tide at some of your local bridges will produce good snook action on swim baits and plugs.  Having the sun going down later in the evening will also allow you to walk some of the freshwater canals and ponds and search for a giant bass throwing frogs and big top water plugs.
Good luck on your next adventure always remember it is called fishing and not catching so always have fun. That's R-Man Land Based Fishing over and out.
FORECAST BY: Jayson Arman
That's R-Man Land Based Fishing Services
Thatsrman4677@gmail.com
(772) 530-8080