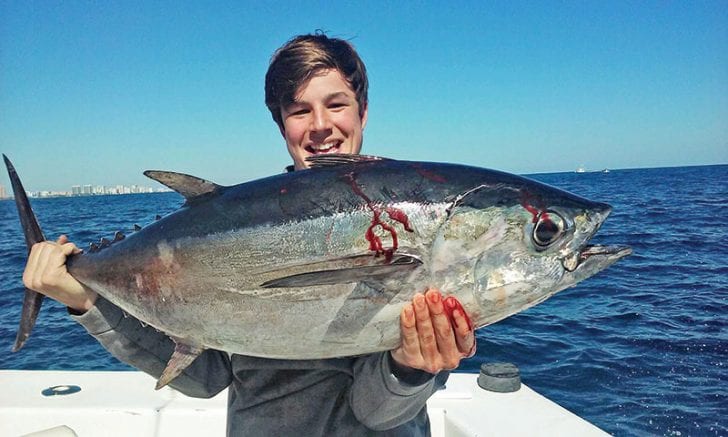 March is finally here, the month we've all been waiting for. This is the start of the all around best fishing season for Fort Lauderdale. During the months of March through May, just about everything is biting. Wreck fishing is just plain awesome. Amberjacks stack up around the wrecks from 200 to 400 feet of water in great numbers. They are so aggressive, you sometimes can't even drop your bait fully to the bottom. Amberjacks are big, often 40 pounds and sometimes even bigger. They fight like a truck and I believe they are one of the strongest fighting fish in the ocean. Amberjacks, almaco jacks, cobia and various kinds of grouper are all present on the wrecks this time of year and make for great action. For you really big game fishermen, we are fully into shark season as well. Hammerheads, mako and thresher sharks have all already been caught in the past couple weeks and we're getting more sharks moving through our waters every day. The 'Shark Train' as we call it will last until the end of May.
Offshore dolphin fishing is also hot in March. Every year like clockwork, there is a 2 week period (it's always when there is a hard east wind for a couple days) when the dolphin bite goes off the chain and the dolphin come right into 100 feet of water to feed. It's always the roughest days to fish, but the dolphin fishing is unbelievable for that short window of opportunity. Kite fishing and trolling work very well for dolphin fishing on the reef, as does slow trolling live baits from the outriggers. When the dolphin bite happens, they bite just about everything. Blackfin and yellowfin tuna, wahoo, sailfish and even white and blue marlin are all also out there and available to be caught this month.
Incredible fish are caught over the next few months here in Fort Lauderdale. Get out there and catch some of them! Good luck everyone and tight lines!
Capt. Brett Magers
New Lattitude Sportfishing
(954) 707-2147
www.newlattitude.com