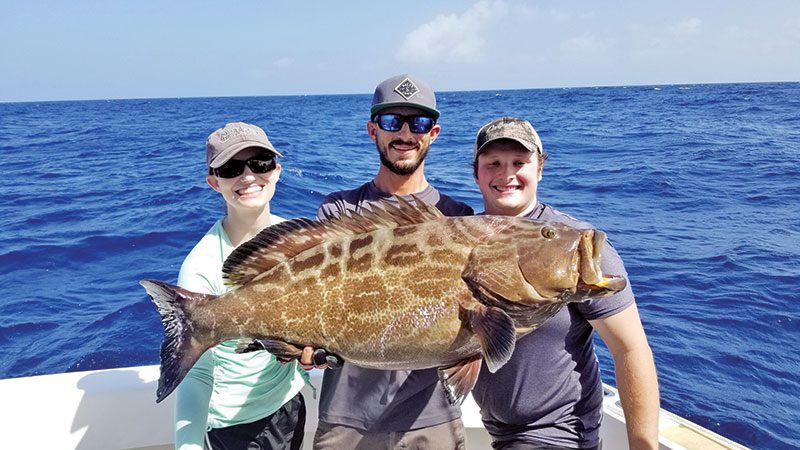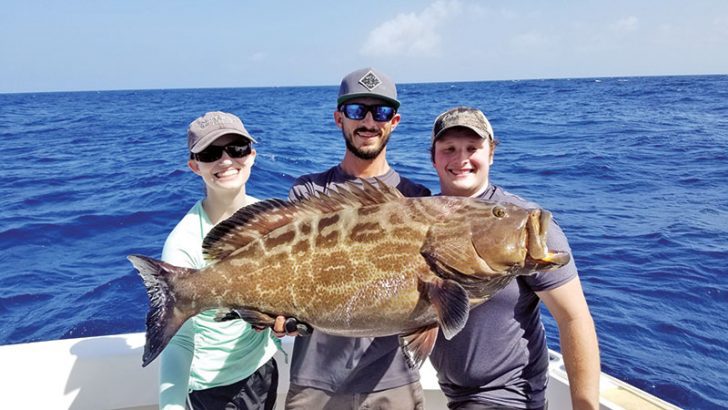 Another April has arrived and amberjack action around the artificial reef areas is awesome! They have fully inhabited our local shipwrecks and have made their homes for the spring. If you want to catch action on big fish and quick, go to the wrecks and drop some live baits down and see what you get. Amberjacks, grouper, cobia, barracuda and sharks are all stacked up around these wrecks in 200 to 350 feet of water. Dropping live baits, dead squid, cut bait and even jigging works very well for these bottom game fish. Deepwater fish such as vermillion snapper and tilefish are also biting strong in 250 to 600 feet of water. Groupers are biting exceptionally good this month, but you'll still have to wait until May 1st for them to be in season. It's great to be catching them so well though. The closed season on groupers has really helped them make a dramatic comeback. The story is, if you want action, hit the wrecks.
Whenever you are fishing in April, be on the lookout for mahi mahi, as they come in shallow during the spring months. They swim into as shallow as 100 feet of water regularly. Whether you're trolling the reefs or bottom fishing on a shipwreck, always be ready for a school of dolphin to pop up out of nowhere. I can't tell you how many times I've been bottom fishing and suddenly saw dolphin swimming under the boat. If you're strictly after dolphin, trolling offshore is still the best bet for finding them in big numbers. Floating debris, low flying frigate birds and weed lines are the best places to fish near for dolphin offshore. Another cool technique is slow dragging live ballyhoo in 150 to 400 feet of water and you may catch sailfish or tuna.
April is an outstanding month for fishing in Fort Lauderdale. No matter what you do, you should come home with a good catch.
Tight Lines.
Capt. Nick Colosi
New Lattitude Sportfishing
(954) 707-2147
www.newlattitude.com