An FWC officer measures a lobster to make sure that it is the appropriate size.
Spiny lobsters must have a carapace length greater than 3 inches to be taken during the open seasons, and divers must possess a measuring device and measure all lobsters in the water.
Two-Day Mini Lobster Season Set for July 29-30, 2020
One of Florida's coastal traditions occurs every July when the official mini-lobster season kicks off. Coastal areas are flooded with "bug-hunters" trying to find their share of these tasty crustaceans. Keep in mind, there are two Florida lobster seasons, the two-day mini season and the eight-month regular lobster season. The mini lobster season is always the last consecutive Wednesday and Thursday in July. This year the mini season falls on July 29th and 30th. The regular eight-month lobster season opens August 6 and runs through March 31.
Spiny lobster must have a minimum carapace length of at least three-inches and must be measured in the water. The carapace is measured from the forward edge (between the rostral horns) to the rear edge of the carapace, and all harvesters must have a measuring device while harvesting. Lobster must be landed in whole condition. Separating the tail from the body is prohibited in state waters.
You'll also need to know how to identify an egg-bearing female. Female lobsters carry eggs (you will see them directly under the tail) for about a month anytime between April and August. An egg-bearing female is said to be "berried," and under the regulations they must be released unharmed.
During the short sport (two day) season, the recreational daily bag limit is 6 per person in Monroe County and Biscayne National Park, and 12 per person per day in state and federal waters off all other counties. During the regular season, the daily bag limit is six per person in all state and federal waters. If you're headed south, keep in mind that harvest of lobster is prohibited in John Pennekamp Coral Reef State Park during the sport season and in Everglades National Park, Dry Tortugas National Park, no-take areas in the Florida Keys National Marine Sanctuary and in the Biscayne Bay/Card Sound Lobster Sanctuary during both the 2-day sport season and regular season.
Lobster harvesting during either season requires a resident or nonresident saltwater fishing license and a special lobster permit, unless you are exempt.
And remember, a "divers-down" flag (red with a white diagonal stripe) is required while in the water. Visit MyFWC.com/Boating and click on "Boating Regulations" for more on how to snorkel safely.
For information on lobster harvesting, visit MyFWC.com/Fishing and click on "Saltwater," "Recreational Regulations" and "Lobster." For an overview on measuring lobster, visit http://bit.ly/2RldGGi.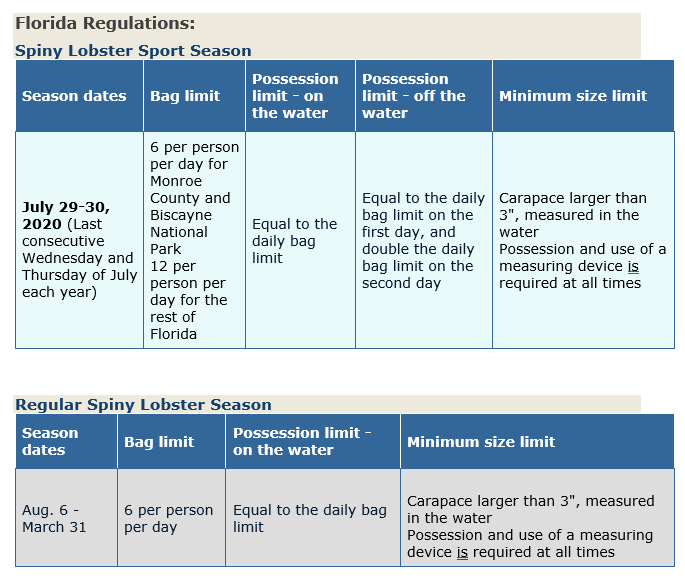 Information provided by the Florida Fish and Wildlife Conservation Commission.