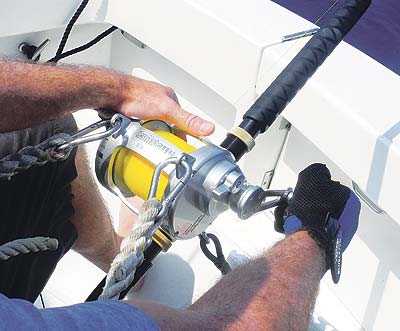 By Capt. Chuck Wilson
Imagine a bathtub of water 1500 miles across. The "Tub of water" here now is 77 degrees and every two to four weeks though summer, another new and warmer "bathtub" of warmer water arrives until we reach around 84 degrees here in Kona Hawaii.  The cycle then begins in reverse until we drop to our lowest water temps here in Kona of 75 degrees. May and June is transition time in Kona. The more temperate cooler waters are on their way out and it is time for vast numbers of Blue marlin to arrive.
Kona is known as the Big Blue Marlin Capital of the World for good reason. Last year, again, Kona was the location of the winner of the World Cup, with the winner being 729 pounds.  A "Grander" has already been caught here this year, and there have been several in the 500 to 800 pound range already caught or released. Fire Hatt had a 500 pound release on April 14, 2012 using a 50# Ken Matsuura reel, during a morning half day charter and then hooked up to another smaller marlin and landed a 50 pound Shortbilled spearfish in the afternoon.  March fishing! I can't wait until our summer begins to see what is in store.
I highly recommend anyone who has aspirations to catch world record fish to look up Ken Matsuura reels on Google. They are some of the best reels ever made.
Quality reels, matched rods, fresh line, and lures that match the "Hatch", and all of the other equipment and preparation made by the quality boats here in Kona will put you on amazing sized fish. It is "fishing", and we all know what that means. By the way, I have decided that the toughest charter guest is a 10 to 12 year old boy, who expects fish on demand. How many of you charter captains relate to that? Sure we can always catch smaller "bait" size fish, but that big marlin on demand, every day? No wonder you see so many captains like me with lightly graying hair.
Summer rapidly approaches and Kona, Hawaii is one of the safest and family fun places in the world where there is something for everyone, of all age groups.  Right now is the time to call Fire Hatt and book a 2012 Tournament as we have several openings as do many of our fleet.  Many of the boats will start booking up and May is the month to get them set.
Oh, and one more thing, most of the quality boats in Kona have all the gear you will need so you do not have to lug equipment along.  Make sure to inquire about the tackle a charter boat you are considering will use, up front, and what you want to hunt for to eliminate any confusion on you adventure. See you this summer.
Call Capt. Chuck Wilson at (808) 987-0038, and if we cannot accommodate you, we will put you in contact with quality boats and captains who can. Fire Hatt Sportfishing Charters is located at 74-380 Kealakeha Parkway, Honokohau Harbor, Slip B-16, Kailua Kona, Hawaii.