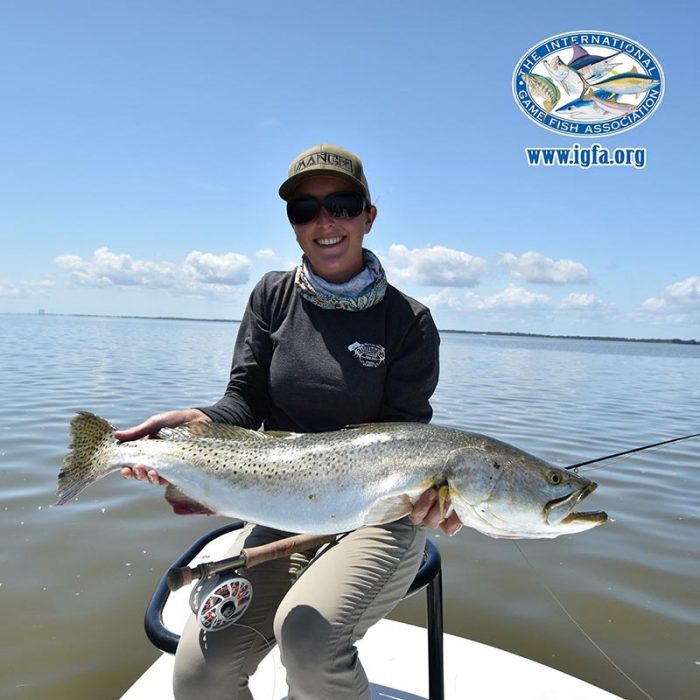 By: Chase Cornell
There is a picture that still hangs in my hallway that my father took nearly 30 years ago.  I am in diapers, sitting on his tackle box, with a gator trout hanging from a stringer just behind me.  When speckled sea trout reach trophy size, they become gator trout.  The Florida record speckled sea trout is 17.7-pounds and was captured in Fort Pierce.  The Indian River Lagoon is without question the epicenter of trophy class gator trout in the entire country.
Speckled trout are ambush feeders and can be caught on a myriad of live and artificial baits by shore anglers, wade fishing, or from a boat.  Anglers looking to target big trout on live bait should consider offerings such as hand-picked shrimp, large finger mullet, small silver mullet, or a large pilchard.  These baits can be fished free lined, under a popping cork or even with a split shot, jig head or small egg weight.  A long piece of 30-pound test fluorocarbon and a 1/0-3/0 live bait hook will do the trick.  Try fishing these types of baits on deep mangrove shorelines or around resident sea walls and docks. During the cooler months, deep water is a key ingredient for gator trout. Patience and a slow presentation are a must. If fishing the flats, try putting a live mullet, free lined, out the back of the boat while you cast from the front. Oftentimes, setting out a live bait far behind the boat will trigger a strike from a fish that is reluctant to feed when the boat first floats by.
For those looking to catch a gator trout on artificial, large profile lures such as Heddon's Zara Spook, the Yo-Zuri Crystal Minnow, D.O.A. Swimming Mullet and C.A.L. soft plastic jerk baits in white/red, chartreuse and pearl are strong options in the wintertime.  Throw top water lures early in the morning and late in the afternoon to trigger strikes from big trout.  Trout are ambush predators, so areas with moving water, definable structure or areas holding bait are key signs to identify when fishing for gator trout. Cast to sand pot holes, dips, depressions or on the edges of shoals and sandbars. Developing a pattern on a given day will help you catch more fish and hopefully a gator trout.
At the pinnacle of targeting trophy gator trout is sight fishing in shallow water with a fly rod. As water temperatures drop and the heavy rains of fall subside, the waters of the lagoon will clear and big trout will warm up by hanging out in shallow water when the sun is high in the sky.  Just recently while fishing the north end of the lagoon, my friend Amanda Bottenberg (@manduhleighb), guided by her boyfriend Mike Bloch (@fly4poons), sight fished on fly an IGFA world record 33-inch, 9-pound gator trout on 6-pound tippet.  The couple had caught some fish that morning and decided to tie on an IGFA legal leader provided by Capt. Camp Walker of Catalyst Fishing Charters (@catalystfishingcharters).  The next fish they came across was the world record gator trout.  Congratulations on your world record, Amanda!