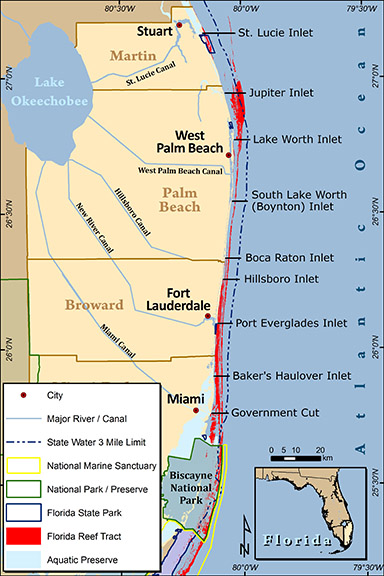 By Jessica Garland, Assistant Project Engineer, Martin County Engineering Department
Southeast Florida's coral-rich communities are more valuable than the Spanish treasures that sank in this region many years ago. Like the lost treasures, these amazing reefs lie just a few hundred yards off the shores of Miami-Dade, Broward, Palm Beach and Martin counties where more than one-third of Florida's 19 million residents live. Fishing, diving and boating help attract millions of visitors to this region each year (30 million in 2008-09). Reef-related expenditures generate $5.7 billion annually in income and sales, and support more than 61,000 local jobs (Johns et al. 2001).
Coral reefs are highly diverse and productive. In southeast Florida alone, coral reefs support hundreds of different commercially and recreationally important species of fish and other animals, including grunts, snapper, grouper, crabs, and lobster, which have made Florida's reefs such an attractive fishing destination for decades. Many of these fish depend on Florida's coral reefs and they play an important role in the reef ecosystem. Healthy reefs and healthy fish populations are intimately linked and are vital to our food supply and economy. Despite this strong connection to our communities, these reefs are surprisingly fragile ecosystems. Many local threats harm southeast Florida's coral reef ecosystems, including land-based sources of pollution, coastal development, vessel groundings and anchoring incidents, diver impacts, invasive species and marine debris.
The Florida Department of Environmental Protection's Coral Reef Conservation Program (CRCP) manages the northern third of the Florida Reef Tract (approximately 105 linear miles of reef) and the Florida Keys National Marine Sanctuary in partnership with the National Oceanic and Atmospheric Administration. These programs coordinate research, monitoring and response to coral reef injuries, develop management strategies and promote partnerships and stakeholder participation to advance protection of Florida's reefs. DEP's CRCP leads the implementation of numerous programs and projects including the Southeast Florida Coral Reef Initiative (SEFCRI), Marine Debris Reporting and Removal Program, Reef Injury Prevention and Response Program, Southeast Florida Action Network (SEAFAN), water quality monitoring and coral disease response efforts.
Citation: Johns, G.M., Leeworthy, V.R., Bell, F.W., and M.A. Bonn. 2001. Socioeconomic study of reefs in southeast Florida: final report. Hazen and Sawyer Environmental Engineers & Scientists. 349 pp.
PUBLISHER'S NOTE: This is part one of a four-part series on water quality monitoring and disease and coral bleaching.