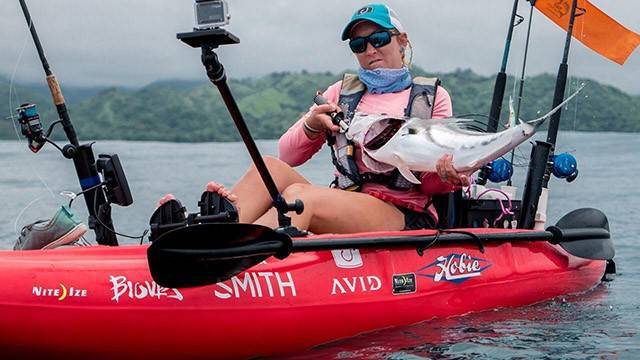 When I was a little girl, I loved reading the Florida Sportsman fishing magazines that my dad was subscribed to. This gave me the opportunity to peek into a world I loved so much. Flipping through photos and words about places I thought I could only dream of. In these daydreaming moments I was haunted by the elusive roosterfish. A fish that's known for its fast aggression towards topwater while sporting a killer mohawk. They truly are one of the coolest looking fish, but also a fish that wasn't easily reached.
 So my story begins.
 In January I started my preparations for a group kayak fishing trip in Los Buzos, Panama. This trip was sourced through a kayak guide service known as Deep Blue Kayak Fishing. In my case, it was basically a kayak fishing trip with all my friends. There would be some new faces, but for the most part I was lucky enough to know most of the guys. This makes it much easier to travel as a lady. If this was trip you wanted to do alone, Deep Blue is a very trusting group and I'm sure would be willing to accommodate any special arrangements for a lady.
 Now for the fun part, the part we're all here for and that's the fishing.
 Once I arrived in Los Buzos it was this beautiful force of rushing to unpack, rig all the rods, prep the kayak, and settle myself in from the seven hours of travel. Fortunately, the strength of Soberana cerveza was on our side, with a beautiful view of the pacific lingering as a backdrop. With the sound of each angler shuffling leader and spooling through the knots they were using. It was like preparing for a tournament with all your best friends but I didn't have all this pressure sitting on my shoulders.
 Day one was going to be one of the strongest learning experience in the shortest amount of time. I was finally fishing for a species my heart had longed for over so many years. I've had opportunities in the past to hunt roosterfish, but I left empty handed on those trips. I was not about to do that again. I wanted that topwater bite so desperately, I stuck to my guns and fished around the rocks. Later I learned that I was fishing the least productive side of the rocks and that it wouldn't hurt to fish some deeper water either. On day two, I adjusted my rock technique and threw around the other side and expanded my hunt to rocks I had realized the day before were submerged at high tide. We had some come to the surface after our poppers, but none of them seemed aggressive enough. I wasn't really willing to slow down my retrieval since all I knew was that they liked it fast and faster.
 On day three, I was mother shipped on a panga to the yellowfin tuna grounds, which was nothing but an epic bite on poppers. Besides being surrounded by humpback whales, dolphins and the open ocean, we were crushing the yellowfin. This was definitely making up for my lack of rooster bites, but I still couldn't leave without it.
Day four rolls around and I found myself hitting the afternoon mark on my second to last day on the water. I decided to make an adjustment from topwater to a vertical jig on a hump we saw the locals fishing. As my jig was sent down on my first drop all I could think about was that stupid fish I came here for. My jig hit the bottom and I started to work it to the top. Before I could get more than a few turns of the handle in, I had a fish on.
 Sure enough, as I started to see color my heart exploded and I screamed "roosterfish!" I came, I sought, I conquered and I didn't give up. No, it wasn't on topwater, but it was on artificial and it was caught on an adjustment made by a gut feeling.