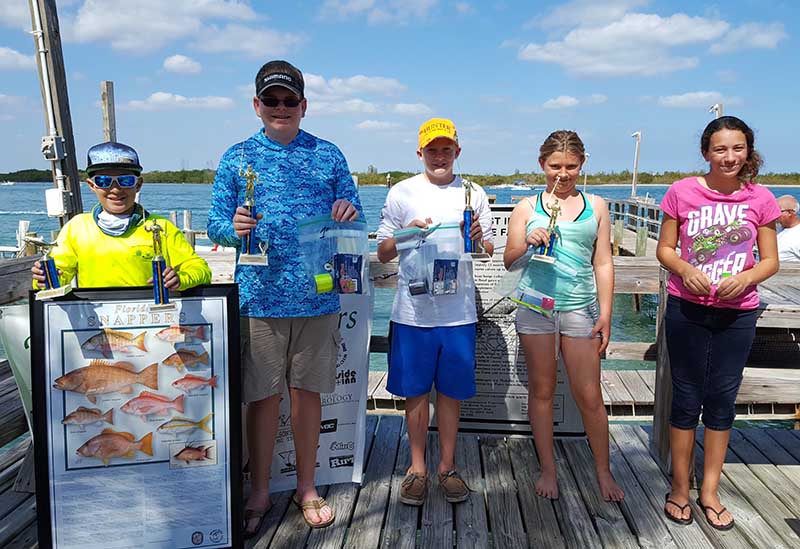 Treasure Coast Casters held its February Senior Division inshore tournament on February 12 and the fish of the day unquestionably was sheepshead. Twelve fish species were on the "hit list", but besides the sheepshead, the only other species pulled in were two mangrove snappers.
Here's the catch list: Brayden Adams, two sheepshead, with one weighting 2.12-pounds; Colt Krischke, one snapper and two sheepshead, with one weighing 2.05-pounds; Andrew Evans, one snapper; Nicholas Rosario, two sheepshead, with one weighing 3.09-pounds; Ciara Franqui, a 1.10-pound sheepshead; and Kailtyn Ward, two sheepshead with the heaviest weighing 2.12-pounds.
MIDDLE SCHOOL RESULTS
1st:  Colt Krischke, 45 points
2nd: Nicolas Rosario, 30 points
3rd: Kaitlyn Ward, 30 points
Nicholas Rosario and Kaitlyn Ward tied in points but Rosario took the second-place slot since he had the heavier fish.
HIGH SCHOOL RESULTS
1st: Andrew Evans – 15 points
no fish were weighed for 2nd and 3rd place.
Biggest fish of the tournament went to Nicholas Rosario for his 3.09-pound sheepshead. He took home a trophy, as well as a framed poster of the Florida Snapper, donated by the Florida Fish and Wildlife Commission.  Krischke and Evans also received $25 Bass Pro gift cards, among other items in their tournament bag.
Jason Franqui, of J.F. Custom Fishing Rods, was on hand to show the anglers how a rod is made. The junior anglers also helped Franqui put eyes on a fishing rod.
Treasure Coast Casters offers experiences that educate young anglers on the importance of marine conservation, while maintaining a sustainable and healthy estuary and marine environment. The all-volunteer non-profit offers two fishing tournament divisions, a Junior Division for youth 5-11, and a Senior Division for youth 12-18. There is no cost to join or to fish a tournament. Anglers bring their own bait and fishing gear.
For more information, visit www.treasurecoastcasters.org or visit Treasure Coast Casters on Facebook.