Lanier Stripers  by Steve Scott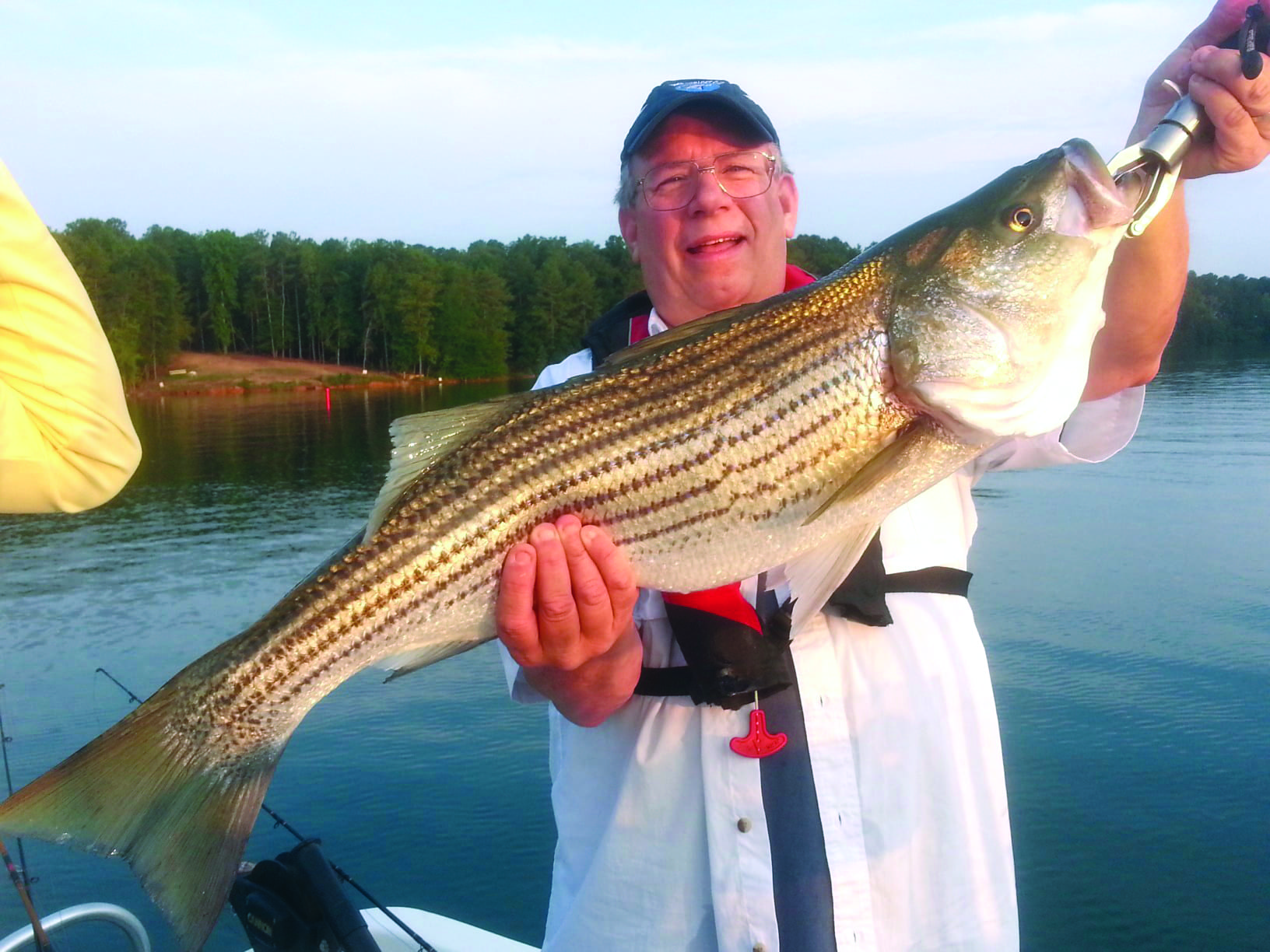 Every month I start out my report identifying the air and water temperatures, because these are so critical to locating stripers. December brings us a combination of ways to locate stripers in that they are just beginning to move from the deep water patterns back into the creeks. This month I would concentrate on dropping downlines dead center in the creek channels and freelines with trout and blueback herring 100 feet out over the shallow banks farther back in the creeks, especially when the sun hits those areas. Be sure to be on the right side of the lake. The bite here will be over quickly, however, you basically have until 9am.
Water temperatures this month should be in the 54-57 degree range over most of the lake and a little cooler in the rivers up north. While the stripers will be moving to the creeks mid-lake, we should mention that there may be some stripers staging in large bays off the main channel from River Forks to Gainesville Marina. Use downlines here with the bait 2 to 3 cranks off the bottom.
Topwater is another favorite for this month. Be sure to have a 10-12 pound light line and use the ¼ ounce Bucktail jig without a trailer. As the baitfish come up to the surface around reef poles and submerged points, cast your bait right into the mix but wait a few seconds before making a slow retrieve. You should hook up with a good size striper because the smaller ones are near the surface ready to strike, and by waiting, your bait will sink a little more to the larger stripers waiting below.
One of my favorite ways to fish is using planer boards, directional bobbers and weighted/unweighted freelines in the rivers. If you are far enough north, you can put your boards literally bank to bank. I like a spread of four planer boards, two on each side with the directional bobbers in the pockets allowing the use of a couple freelines out the back about 150 feet out. Make one weighted and the other unweighted. That way they should not cross each other unless you get one on. Remember, striper anglers need to be flexible, adaptable, always improvising, trying new ideas, methods, new patterns and techniques.
Tip of the month: whether you're downlining, pulling lead core or umbrella rigs, be sure to go over your target from each direction. On my website at www.TeamLanier.com, you can learn about bait care, electronics and methods for catching stripers. If you are stumped about where to start, you can use my generic month by month Lanier log, check out current patterns, techniques and more tips.
Lanier Stripers by Clay Cunningham
It's been a fun October here on Lanier and I'm hoping the topwater bite continues into November. Over the past few weeks, the Sebile Magic Swimmer has been hot in the 110 and 125 size in various colors and even caught a few fish on the 145. The new colors are working great on the stripers and spotted bass. Be sure to throw this bait on 10-pound Trilene Big Game or Trilene 100% Flourocarbon. Match this to a 3000 Penn Conflict II on a 7 foot medium Fenwick rod and you are good to go. All you have to do on the Magic Swimmer is cast and retrieve at a moderate speed. The lure does the rest.
As the water cools this November, look for the fish to move into the creeks. They are actually already making a move toward the creeks now. How deep the fish will be in the creeks is hard to say. The weather is a big factor on how deep. Last winter the fish stayed shallow and fed on medium shiners. Hopefully, this same pattern develops this December. If the medium shiner bite develops up shallow, be sure to rig up small hooks and light line. In a nutshell, match up a 7 foot medium light action Shakespeare Striper Rod with a Penn Squall 20 Linecounter or the new Penn Fathom II Linecounter with 15-pound Trilene Big Game. Then add a five foot leader of 10-pound Trilene 100% Flourocarbon with a Spro Power Swivel and a Gamakatsu size 6 light wire Octopus hook. These hooks are small but incredibly strong and sharp. Look for gulls, loons or schooling fish to give away the key areas. Then pull these baits with the trolling motor about 1 mph around the surfacing fish.
Curious to see if trout makes a comeback this year. The last two years it has been medium shiners. Do not be surprised if trout becomes the bait of choice again this winter. Every year is different. The fish may move deep and trout be the bait of choice. If they do, all you need are Capt. Mack swivel sinkers and some 2/0 and 3/0 Gamakatsu Octopus hooks to rig up a Carolina rig. For details on the Carolina rig, talk to the guys in the local tackle shops like Hammonds Fishing and Oakwood Bait and Tackle.
The boat traffic has vanished and it is time to catch fish. The peace and solitude on the lake in the winter is hard to beat.
Lake Lanier Crappie by Dan Saknini  laniercrappieanglers.net
Water temperature is in the upper 60's, but with colder weather combined with cold rain, I suspect it will drop quickly. If you are fishing in the northern lake areas, you will notice even cooler water temperatures and a change in the water color. We are experiencing the typical fall pattern a few weeks later in the year, but fishing conditions are good to excellent.
Stand-alone brush piles are still our major targets. The ideal brush piles are currently at twenty foot to thirty five foot depths. Your downscan electronics can help you determine whether fish are holding on the brush piles you find. Some brush piles will hold more fish than others. Our club members continue to report great catches. This is a wonderful time of the year to get on fish and catch them steadily.
If you can locate fish in deeper brush piles, thirty to thirty five feet, you may want to consider vertical jigging. The bite is very sensitive. Bobby Garland in different colors, Crappie Assassin, Jiffy Jigs and tube jigs are all working equally well for us. If you have a favorite jig, just try it. Chances are it will work. If you are fishing with someone, try using different jigs and see what's working best at that location. Expect the bite to continue getting stronger as the water temperature drops.
Be safe on the water and wear your life jacket. It can save your life!