By: Shane Goebel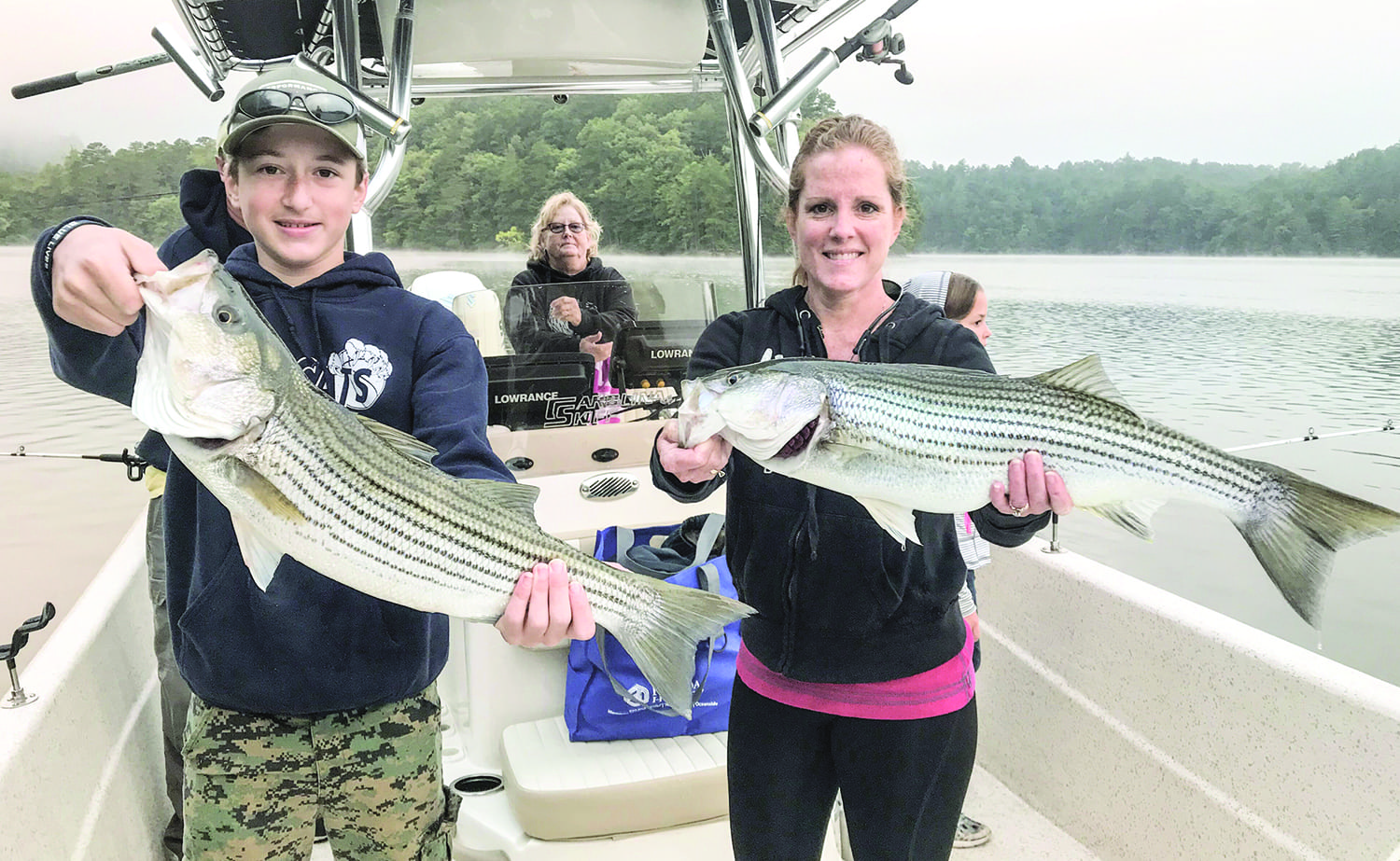 If you're sick of the rain, then join the crowd. However, remembering back two September's ago, we were praying for rain. Our North Georgia lakes are busting at the seams with water, but enough with the rain talk, let's talk striper fishing. This is a perfect time of year to catch tons of schooling fish in the Georgia mountains, and there's no better way to do that than by booking a trip with Blairsville, GA's #1 striper guide: Big Ol' Fish Guiding Service.
Currently, Lake Nottely is still at full pool. Water clarity is clear and slightly stained in the backs of creeks, and water temps are in the mid 80's.
Striper fishing has remained about the same lately. We've been catching a ton of smaller schoolies in shallower water and some larger stripers in deeper water over the channels. The early morning and late afternoon bites are your best times to see some action. Target creek mouths and points off the main lake channel. The majority of our fish have been caught from Point 7 to the dam. Downlining live blueback herring over a 30 to 70 foot bottom has been the best technique. We have seen a pretty bad thermocline, so keep an eye on your baits. Below 30 feet and they're toast. The fish will continue to school up through the next month or so and will stay over deeper water. Just remember to keep an eye on your electronics and watch for schools of stripers when cruising the lake. Also, remember to try to get the fish back into the water as quickly as possible after they are caught.
September is a fantastic month for catching a lot of stripers and bass on this North Georgia lake. Give Big Ol' Fish Guiding Service a call and let the area's #1 rated guide service put you on some of Lake Nottely's best trophy stripers during the fishing trip of a lifetime. We are Blairsville, GA's premier full-time guide service, specializing in striped and hybrid bass. We also serve Lakes Hiwassee, Chatuge and Lake Blue Ridge. For all your live bait and tackle needs, check out Hughes General Store in Blairsville, GA. They carry everything you need for a successful day of fishing and have the best live herring around. So, come fish with the pros for the opportunity to be featured in Angler Magazine, and let us help you get your fish on!
Big Ol' Fish Guiding Service &
The Angler Magazine Fishing Team
Lakes Apalachia, Chatuge, Nottely, Blue Ridge and Hiwassee
www.bigolfish.com