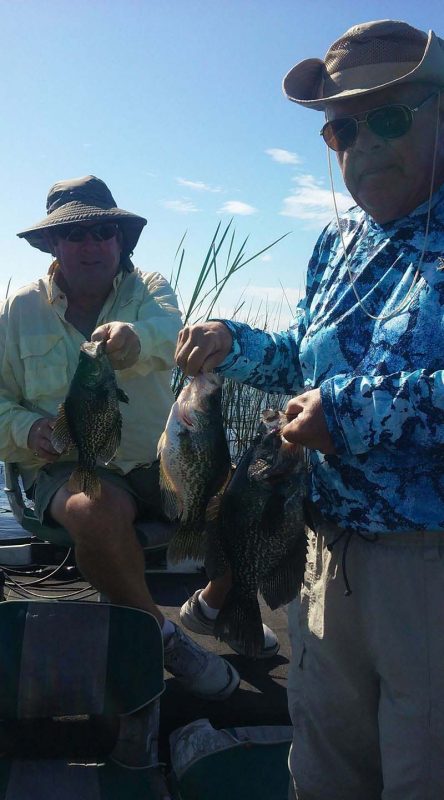 The word for the north end of the lake is crappie, crappie, and more crappie; or specks as they are known to those of us born in south Florida. Limits of specks are being caught from Bird Island to Taylor Creek with the majority of them in the 12- to 14-inch range, yes they are good ones. Fourth Point, which is close to the Indian Prairie Canal, has been a favorite place for jig fishermen. Tin House Cove has produced limits on jigs and minnows. Both of these areas have been very good early in the morning and late in the day with some of the best fishing in the afternoon from about 4 p.m. until dark. Jigs with an orange head and silver tail have been deadly. But as speck fishermen know, it can change from day to day, so just stick to the orange head and try different color tails. Buckhead Ridge and the south end of Kings Bar have also been very productive. Grassy Island and in front of the Okeechobee Pier has been very good early in the morning on minnows. Take your time and slowly work your way through the bull reeds dropping a minnow on a slip cork rig in the pockets for best results, or you can just anchor on the outside edge of the reed line and set out several cane poles around the boat. Once things settle down it shouldn't take long until they start to bite. When fishing for specks this time of year remember one important thing, stay away from the full moon unless you are fishing at night. Try to schedule your fishing trip four days ahead of the moon and four days after. It can be very tough fishing around that moon during the day time.
Bass fishing has started to pick up. Catches up to 50 fish a day are becoming common again with bigger fish showing up getting ready to spawn. Eagle Bay, the north-end of Kings Bar and Cody's Cove have produced very good fishing on live shiners. Artificial fishermen have seen good action in the pass. With water temperatures in the mid 60s, slowly working a worm has been a good bet. The guides that have traveled to the Lakeport area on the west side of the lake have had good days drifting North Shore on windy days, and anchoring on calmer days when they can see the holes in the eel grass.
Be sure and stop in to Garrard's Bait and Tackle for all your fishing needs, they have the best bait on the lake.
FORECAST BY: Capt. Eddie Perry
Okeechobee Adventures Guide Service
Phone: (863) 763-7722
Email: eperry@embarqmail.com
www.OkeechobeeAdventures.com
Capt. Eddie Perry is a 5th generation Floridian and owner of Okeechobee Adventures Guide Service. He has fished the Big 'O' since he was a little boy and has professionally guided on the lake since 1996. There isn't much that he hasn't seen on the lake. He can be reached by telephone at (863) 763-7722, web www.OkeechobeeAdventures.com, Facebook.com/OkeechobeeAdventures, or at Garrard's Bait and Tackle.