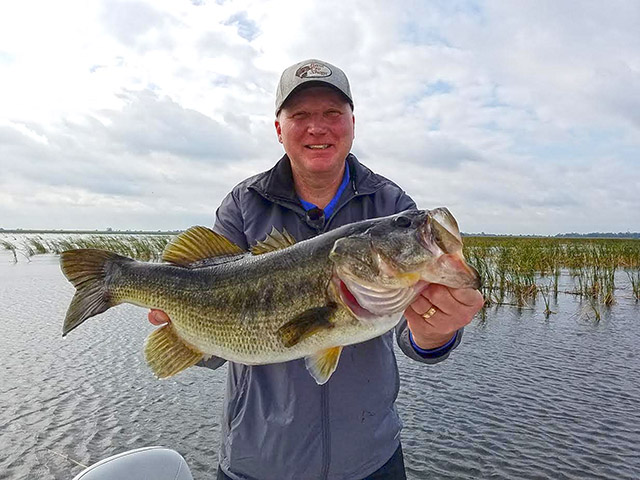 Lake Okeechobee fishing has been exceptional this time of year. The lake is a breath-taking place filled with some of the best fishing you could ask for. The multiple species of fish make for a great fishing adventure.
Lake Okeechobee holds a great deal of water but the levels tend to consistently change. The water level on the lake is decreasing and will continue to decrease into this month. No need to worry as there will still be plenty of water to fish and navigate.
When the levels get like this, I caution you to be knowledgeable about where you are running. If you are going to run in places you are not familiar with, trim up your motor. Getting with a guide is one of the best ways to become knowledgeable about the waters.
This fishing report and update is from the waters South of the Monkey Box. All up and down the shoal there has been amazing fishing. The lake has just produced the best fish I have seen recently. For artificial, I would throw a rattle trap or spinner bait on the outside edge. The water has some color there and it provides a perfect opportunity to throw flashy imitation baits
The flats also provide a prime opportunity to catch some schooling fish. One of the baits that become essential here are swim baits like the Bass Assassin 5" Die Dapper. In a black and blue color, swimming that bait along the surface of the water almost guarantees a massive blow up. If you prefer something with a skirt, throw a swim jig with a good trailer on it.
Big spawning female largemouth bass are still rolling in, getting ready to stage. They are filling up on all the food they can before and after they spawn.
As the month rolls on, the Pan fish like blue gill and redear sunfish (shell cracker) start moving up on to the flats. If the water is stained, you will be able to hear them cracking the surface of the water. I would highly advise you get a bucket of crickets and go find you some.
Crappie fishing is slowing down but they are still out there. The outside grass and the rim canal are holding crappie. I would advise you get some minnows and jigs to hunt them out, while they are still biting.
Largemouth bass will be roaming around, seeing if they could pick off a few of the smaller pan fish. All away around the south end of the lake contains great fishing spots.
This is Capt. Mark Shepard, come catch your Florida fishing adventure of a life time.
FORECAST BY: Capt. Mark Shepard
Lake Okeechobee Fishing Guide
Cell: (863) 673-4966
www.lakeokeechobeeguide.com
Captain Mark Shepard is a full-time guide and touring professional. Experience includes BASS Master, FLW Tours, Everstart, BFL tournaments and many others. Mark has a list of accomplishments in the fishing industry a mile long including a Everstart WIN on Lake Eufaula, AL. Mark originally from Florida moved to Ohio to sharpen him northern skills and moved back from Ohio years ago to master guiding on world famous Lake Okeechobee for over 10 years now.