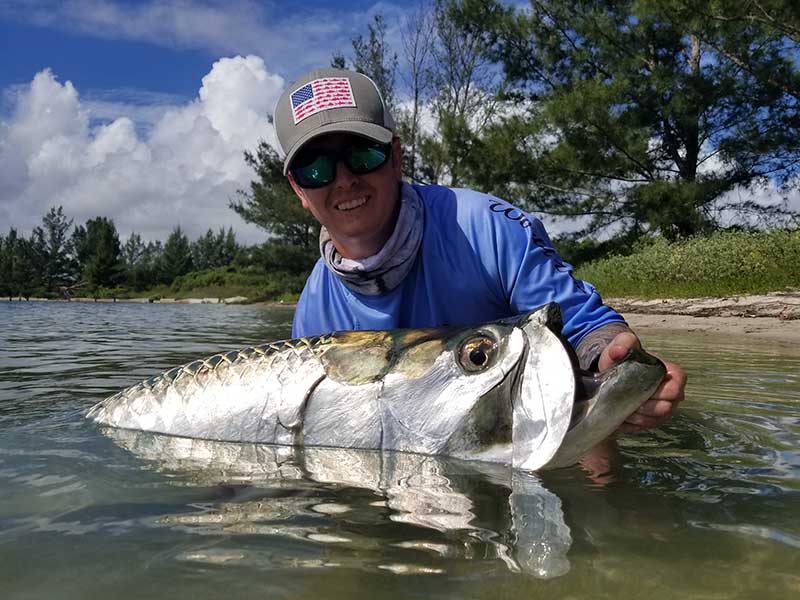 October means mullet run, which can be extremely exciting and frustrating, all mixed into one.  Everything from snook, tarpon, sharks and big jack's will be blasting these mullet. Look for the action to be the best during the high tide along beaches and throughout the Indian River lagoon.  A lot of your bait fish imitation lures will work best during low light. Morning and evening times will be prime time to throw a D.O.A. Bait Buster, any top water lures in a black and silver or red and white color pattern.
Everyday can be different fishing around the mullet schools. One day they will want something that looks exactly like the bait. And the very next day, they will be eating something that is one of my all-time favorite lures, the Bass Assassin 4-insh Sea Shad in the Electric Chicken color. This is a very crazy color but works in so many different conditions.
This will also be the time of year where night fishing bridges and jetties on an outgoing tide will sound like the Fourth of July. Having top water plugs, such as a Live Target 5-inch top water and a D.O.A. Bait Buster Shallow Runner, you will get some extremely exciting blow ups along shadow lines from the bridge and docks lights closest to your inlets.
This is also when you want to beef up your tackle. I recommend a 5000-size reel with at least 30-pound braid, sometimes even 50-pound braid, and an 8-foot spinning rod.  I will also bring a very light spinning rod with light braid, such as 10-pound with a 7-foot 6-inch rod to throw some artificial D.O.A. shrimp.
When the fish are chewing on one particular bait, it can be easier to entice them with something other than what is all around them. Like I said earlier, this can be frustrating and exciting all mixed into to one but during the mullet run you will see some extremely exciting things.
Good luck to those who plan on targeting of fish of a lifetime during this 2018 mullet run.  Wade fishing in the Indian River lagoon will start getting better, but your window of opportunity will be very small, normally the first two-hours of daylight. After this, the bite will get very tough and normally you will have to rely on live bait to entice these fish to eat.
If you are ever interested in booking a land-based fishing trip, my telephone number is (772) 530-8080
Good luck on your next adventure and don't forget to always try to learn something and to have fun out on the water.
FORECAST BY: Jayson Arman
That's R-Man Land Based Fishing Services
Thatsrman4677@gmail.com
(772) 530-8080