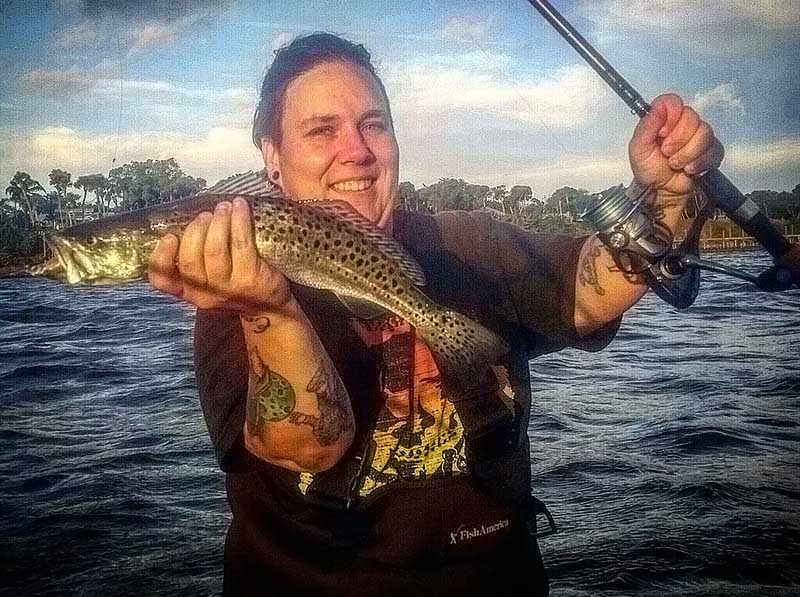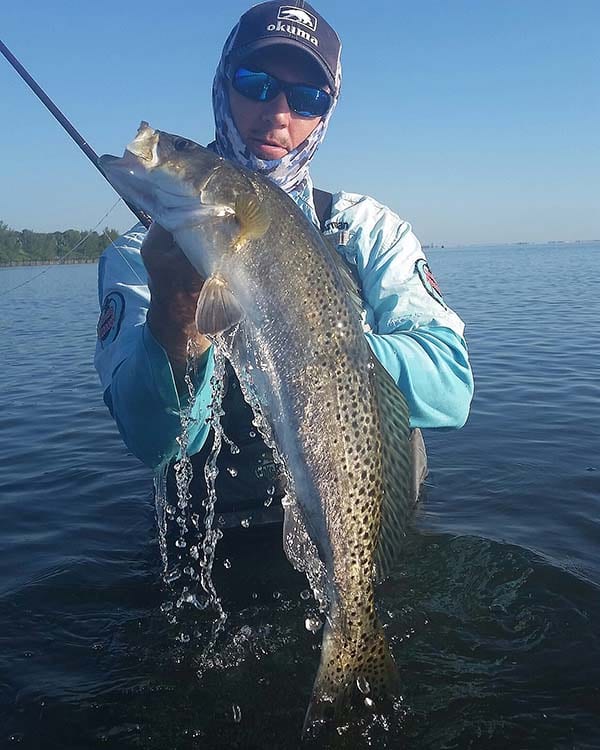 Land based fishing forecast in January is normally excellent for seatrout. Cold fronts approaching will mean it can be harder to get out and be productive, but if you know what to look for it can be your favorite time of year to fish. Grass flats on the Indian River Lagoon can be hard to come by these days. Patterns sometimes only last three-to-four days when they used to last three-to-four weeks. Targeting these seatrout can be difficult with less habitat in the Indian River Lagoon.
I have noticed in the last couple years that the cooler months are still very good for sea trout. Even though there is very little sea grass, the fish will still school up on depth changes, bait schools, spoil islands, docks and water temperature breaks. And sometimes during these periods, wade fishing can be extremely productive. Casting an artificial lure like a Bass Assassin Sea Shad in the Mud Bug color will get you bites. Seatrout, redfish, jack's, lady fish, flounder, Spanish mackerel and others will destroy this bait. For me this is a very good search lure I can fish slow along the bottom. I can swim it in the middle of the water column. And I can retrieve it very fast just below the surface when fish are in a frenzy.
Getting out just before a cold front, when the barometer is changing, can be the small window you're looking for to make for a productive day on the water. Sometimes that window is at first light or at two-o'clock in the afternoon. But from my experiences, this time of year can be very exciting because the fish school up and feed very hard before the cold front approaches.
This is also a time of year when I find myself doing a lot of bass fishing along local ponds and canals, still using artificial lures like a spinnerbait, jigs with a trailer or a three-inch swim bait rigged weedless. And maybe if I'm feeling lazy, a bucket of shiners. But regardless if I'm doing fresh water or salt water from land, it is still a time of year where the fish will school up. So, don't spend too much time in a dead zone.  You will know by being somewhere for maybe 10 minutes whether there is fish to be caught in that area.
On the days that it is too windy or even rainy, go out and explore new areas so you have a good game plan together when you find that window of opportunity to get a line wet. Don't forget it is called fishing, so always try to learn something from a situation or another individual and don't forget to have fun while you're doing it.
Until next month's land based fishing forecast, this is Jayson Arman, That's R-man Land Based Fishing Service, signing off.  Good luck out there and don't forget to always keep that line wet.
FORECAST BY: Jayson Arman
That's R-Man Land Based Fishing Services
[email protected] 
(772) 530-8080