Last Chance for a November Cow
By Jared Wood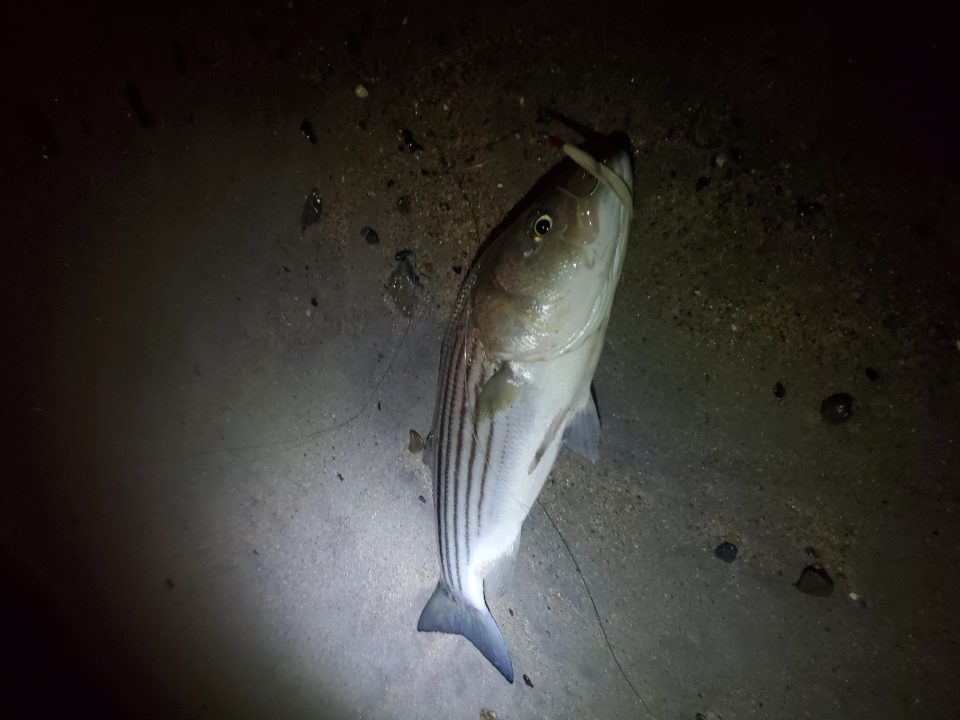 This month the surfcasters in the far north of the stripers range become few and far between. The cold has begun to set in and hunting season is in full swing. The few surfcasters that are still plying their craft at the chance for that late season cow. There are still plenty of schoolies and slot sized fish that have not gotten the memo that it is time to join the rest of the migration south. Mixed in with those smaller bass is usually a cow or two.
It definitely became harder this month with less guys in the surf. The only intel you can rely on is your own because what you are hearing from the tackle shops or fishing reports could be days old or  more. Be mobile by popping in and out of locations that you have caught consistently in the past. Make a plan with spots that you have ranked that fit the criteria for putting one last bend in the rod.
Plug selection for this month can be tough making you want to cram as many plugs into your bag as possible. Keeping the weight down in your plug bag will make for a more enjoyable walk down the beach. Needlefish are a main staple in my bag in November. With sand eels being one of the major baits in the areas I focus my efforts on adding a teaser sand eel fly above it doubles my odds. My sand eel teaser setup is a barrel swivel tied to my main line. From the barrel swivel I tie a 6 inch leader for the sand eel fly and a 3 foot leader to attach my needlefish. Most nights it is the sand eel fly that gets all the attention. The needle fish is in most instances just the delivery vehicle for the teaser.
With the sand eels coming into the surf, mackerel tend to be right on their heels. These two baits are what fuel my November striped bass endeavors. During the day you can watch micro blitzes of mackerel attacking sand eels. When I see this I tend to focus my night time forays in those areas. When I know the macs are in the surf I will still throw the sand eel teaser fly but throw it in front of a mackerel colored needlefish. This covers my bases when it is mackerel and sand eels on the menu.
Rounding out the plug bag is usually a pair of minnow plugs. They are just so productive on all size classes of bass. A glide bait makes its way into the bag. I don't fish them as aggressively this month with the water temps being cooler and the bass a bit more lethargic. A steady retrieve will produce a tight s shaped motion enticing the weariest of bass. A metal lip swimmer is most always in my bag whether it be a danny, atom 40, or surfster. If I can find one large bass looking for a big easy meal in November this style of plug I have the most confidence in doing so with. The rest of my bag is rounded out with bucktails and paddle tail shads.
Locations that provide your best chances at late season stripers tend to have warmer water and an ample supply of food. Harbor entrances, river mouths and the adjacent beaches provide me with my best opportunities. What bait that has not left has become a dinner bell for the stragglers that have not migrated yet or those that are going to winter over. These locations are going to be where the teaser fly is going to come in handy. These locations that I am talking about tend to be sand bottom and the sand eels come in taking up residence. Scoping these spots out during the day will let you know if it is worth your effort after dark. Fishing these locations during the daylight is not a bad idea. If you are into smaller fish during the day coming back after dark tends to draw the bigger bass in.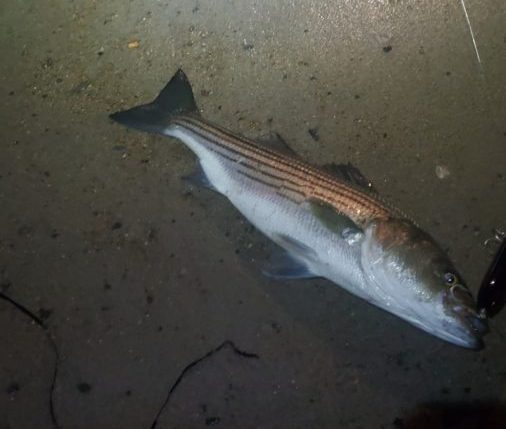 The rock piles that I have fished all summer start to become a ghost town in November. I always make it a point to dedicate an hour to one specific
rock pile. The reason I dedicate an hour to this rock pile is having caught a 41 pound bass there on a cold November night. When the tide and wind are right for that spot I give it an hour of time for the brief window of opportunity at another cow.
Most every surfcaster knows the story of Tony Stetzko's 73 pound Massachusetts State record striped bass. Stetzko's striper was caught on November 3rd on Cape Cod. The fish hit Stetzko's sand eel teaser fly that was tied above a live eel. There is no hard and fast start or stop date to the migration. As a surfcaster you determine that the fish have moved on and hang it up for the year. Picking your weather windows, tides, and moon phase could reward you with that last big fish of the season.
November is a grind in New England for surfcasters. A warm bed and a good night's sleep can be tempting after nights of fishless outings. No surfcaster wants to end their season on a skunk but chasing striped bass in November seems a whole lot better than sitting on the couch.
Jared Wood is a surfcaster who fishes from Maine to Connecticut. Targeting Striped Bass, Bluefish, Albies, and Bonito in the surf. He can be found on Instagram as surfcaster_jared.  For any questions he can be reached at jaredwood25@gmail.com.