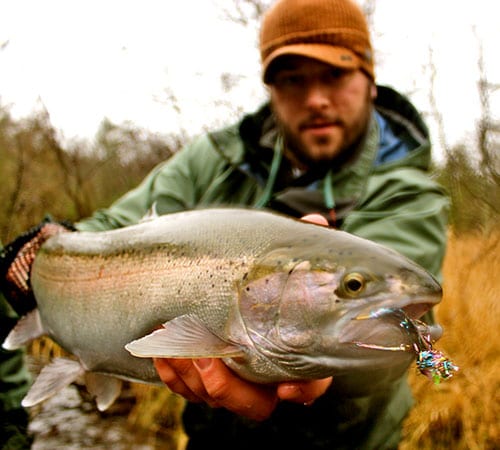 By  Jeff Hubbard
November brings steelhead into the river; these bright chrome fish are one of the best gamefish to chase with fly rod and reel. From there acrobatic leaps out of the water to their screaming runs up or down the river, you can't match the fight of a fresh run fall steelhead. These fish enter the river towards the end of October, November, and December to fill their bellies up with the left-over salmon egg's that float in the rivers currents. These steelhead can be eager to eat, especially in the early month of November or late October when water temps are warm still. They will take egg imitations, along with Nymph and big Streamers swung in front of them or even stripped off the banks. That's what makes them such a sought-after gamefish for a fly angler. Here on the Pere Marquette, we have world class fishery of wild steelhead.
This is very special to have a wild fishery, it draws anglers in my boat, from all over the world. We need to practice more catch and release with these fish especially the females. These steelhead genetically are tough, to be able to hold over in the river all winter. So there going to give off the strongest and biggest fish when they do spawn in the spring. It just makes sense!!! You can find steelhead in November throughout the whole river system. Try fishing with floats under a floating fly line with egg imitations for great success. Or to take a more traditional approach try to pursue these fish with a swung fly. Casting a two-handed fly rod with a sink tip is a great way to cover a lot of water and even if the bite is slow the casting is fun.
For up to date, report check out www.outfittersnorth.com or like us on Facebook at Outfitters North.
Jeff Hubbard
Outfitters North Guide Service
(231) 898-6246
www.outfittersnorth.com