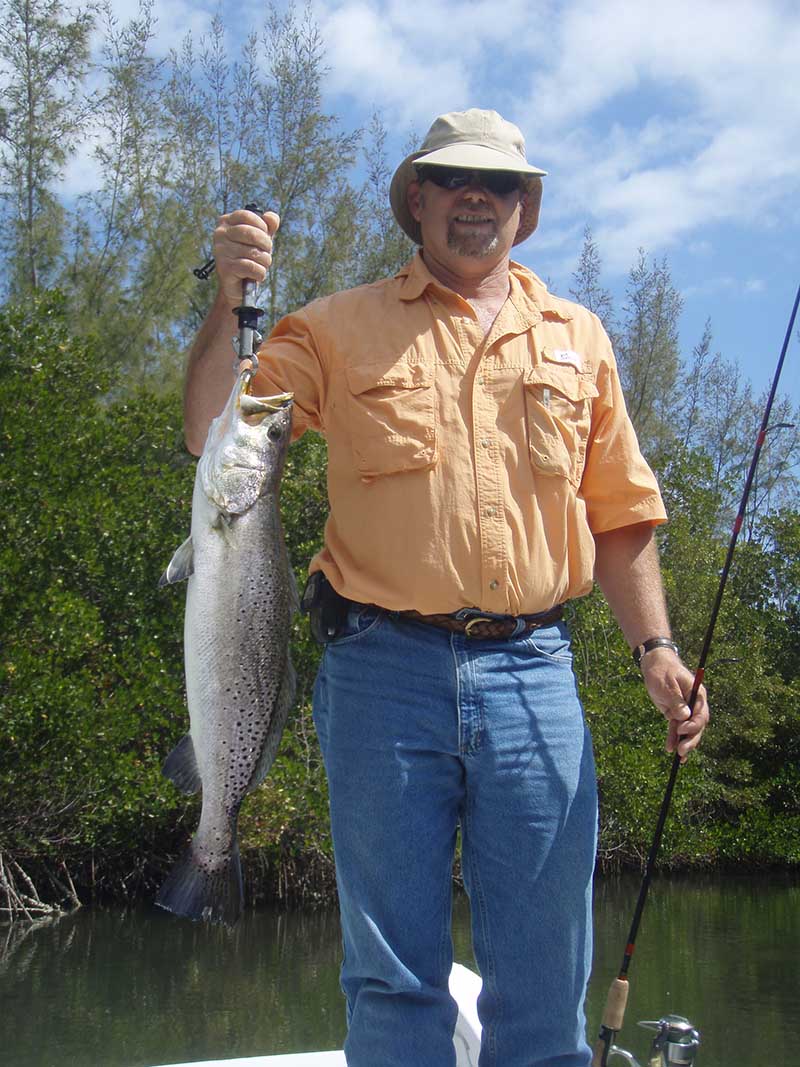 The Indian River Lagoon is where consistent action is to be had in February. Gator sized seatrout will react to cold winter weather by moving into areas of protected deep water, such as canals and creeks. Live shrimp, D.O.A Shrimp, 52M MirrOlures and soft plastics fished slowly near the bottom in these areas can account for some incredible big trout action on days that find most anglers in front of the TV. During the warm weather periods between the cold fronts, these same fish will be found in super shallow protected areas. Under these conditions stealth becomes a must, and wading can further swing the odds in an angler's favor. Live shrimp on a short leader below a small float is a great method to fool shallow water trout, especially if you have a strong wind or current to help drift the bait into the strike zone. Soft plastics and small shallow running plugs are excellent choices for making the long casts necessary to cover the shallow, mud bottom flats without spooking the wary trout and reds.
Redfish, regardless of temperature or water clarity, will be in the shallow backwaters. Mangrove shorelines can be sight fished when the waters are clear. Fly fishing allows for the soft presentation to visible fish that is often more important than the bait or lure, but a small live shrimp, D.O.A. shrimp or a jerkbait are also very effective when sight casting. If waters are murky, you can drift, pole or trolling motor very quietly throwing a weedless gold spoon, four-inch D.O.A. Cal jerk-bait or tipped skimmer jig and cover as much area as possible. Blind casting these areas will give anglers a very good chance of scoring on reds, trout and even snook that will lay up along sunny shorelines on occasion.
Investing in a pair of waders can pay great dividends this time of year. Wade fishing around spoil islands, flats edges and sunny shorelines with live shrimp, flies and artificials can lead to some eye-opening results. Use the wind and current to make long casts and natural drifts while wading to get into gator trout and reds that will in most cases spook if approached by a boat. Occasionally, big snook show up on the spoil islands in the early spring and can be an added bonus while wade fishing for trout and reds.
Pompano will still be a target of both surf and lagoon anglers in February. Sandfleas and cut clams are the preferred baits of surf fishermen who line up north and south of Sebastian Inlet. Yellow and pink Doc's Goofy Jigs are the choice of most serious pompano anglers in the lagoon. Hopping the jigs along the bottom behind the inlet and around spoil islands is the best way to target the tasty hard fighting pomps.
Put on a jacket and get on the water in Sebastian this winter
FORECAST BY: Capt. Gus Brugger
Pattern Setter Charters
(772) 360-6787
www.WelcomeToSebastian.com