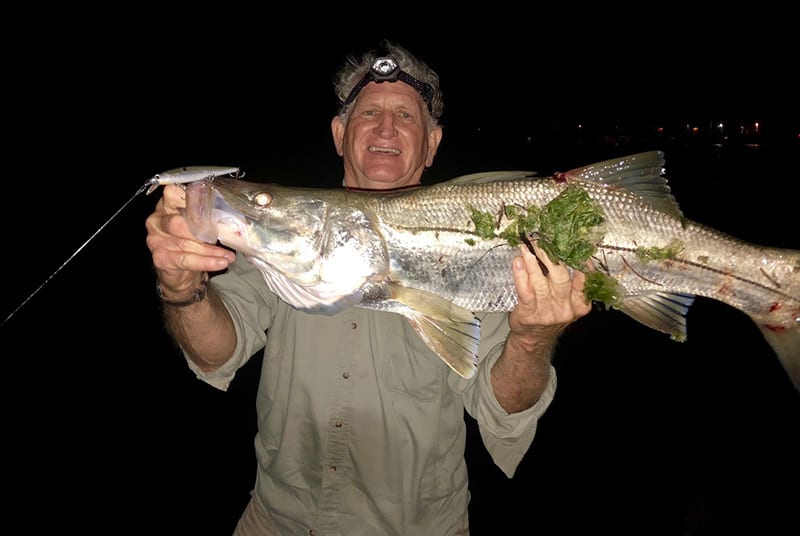 It has been a mild winter here in the Sebastian area and like last year the fishing calendar is likely to be a bit ahead of schedule as far as spring fishing is concerned. April is always a well-rounded month for Sebastian anglers and my personal favorite for achieving the inshore slam of trout, redfish, snook and tarpon. From the upper reaches of the Sebastian River to the Gulf Stream, anglers will have plenty of options and opportunities to stretch their string is the Sebastian Area this month.
Sebastian River
Snook, tarpon and big bull sharks are available in good numbers in the Sebastian River in April.  Whether you prefer to fly cast to rolling tarpon in the jungle like setting of the upper south fork, or sit and soak a 12-inch live mullet on a grouper rod off the U.S. 1 bridge, you will probably catch something picture worthy this month. D.O.A. shrimp and Terror Eyz jigs, MirrOlures and live mullet will catch just about everything you can encounter in the Sebastian River. Throw to rolling tarpon in both forks of the river and work the docks and shoreline cover for snook. Bull sharks can be caught on live and dead baits in the lower river between the railroad and U.S. 1 bridges, a little patience and a bit of chum will help.
Indian River Lagoon
April's list of available species is the most extensive of the year.  The techniques used to catch just about all the species can be as simple as live shrimp below a float or bouncing a D.O.A. jig or you could probably throw nothing but topwater plugs and do equally well.  This is family vacation time in Florida and the fishing in the Indian River Lagoon is tailored perfectly to anglers of all ages and skill levels. Whether you fish from shore, wading or in a boat you have a good chance of making a memory this time of year.
Sebastian Inlet
The snook have remained stacked up at the inlet this winter. By day and at night anglers using live shrimp, greenies and croakers have consistently had great catches. Jigs, plugs and D.O.A Shrimp have also taken more than their share of inlet snook lately. Redfish, big jack crevalle, bluefish and Spanish mackerel will also add to the action in and around Sebastian Inlet in April, if you can keep the snook off your hook.
Near-Shore Atlantic
Anything can be feeding along the beaches in April. The waters within a couple miles of the beach can boil with schools of Spanish mackerel. Bluefish are schooled up just outside the breakers. Big tarpon, cobia, king mackerel, bonito and spinner sharks can be pursued by kayak fishermen launching from the beach. Jigs and spoons catch the Spanish and blues, while live baits, plugs and swim-baits get the attention of the larger predators.
Tight lines.
FORECAST BY: Capt. Gus Brugger
(772) 589-0008
 www.WelcomeToSebastian.com