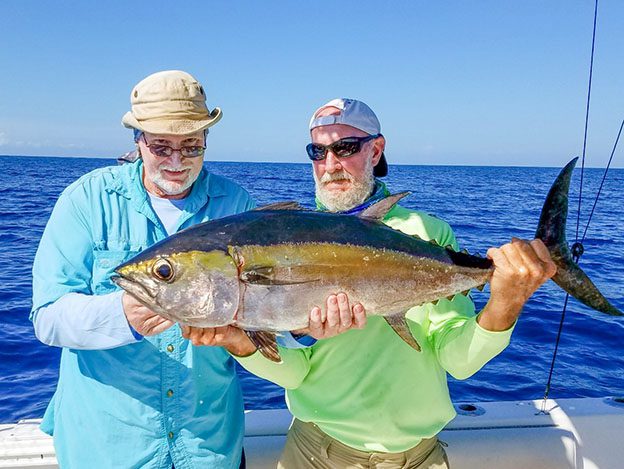 August holds lots of promise for the offshore angler out of Sebastian. Flat seas in the morning make for some comfortable fishing before the thunderstorms come calling. Often times in August we have a good amount of cobia in our waters. They will swarm around high relief in 60-to-90 feet especially if there are big bull sharks around. They'll be conspicuous on sonar up in the water column and are often accompanied by amberjack.  Drop a livie or a jig down to the proper depth and hang on! A freelined frozen bait with just enough weight to get it down, will get'er done too.  When the cold-water upwelling comes in, it can drive the cobes in close and near the surface for some great august sight fishing action. Look for them around bait pods or subtle weed lines.
Look for some good mangrove snapper fishing around the full moon early in the month. Chum the water and bring those big mammas to the surface. There's nothing more fun than hooking a 5- to 10-pound mangrove near the surface on a spinning rod and trying to stop him from making it to the bottom. Use 25-pound flourocarbon and a #1 hook during the daylight hours. Chumming them up at nighttime is the most effective way to fill up the box with them. They are much less leader shy when it's dark so, heavier line can be used.
Once again, this month, small boats can get into some good action within five miles of shore. Kingfish are the best bet, but mahi, sails, and other pelagic will come in shallow especially when the water is blue and the bait is thick. Working around the bait schools with live greenies is the best way to hook into a quality fish.
It's a great time to run out to the Gulf Stream and troll. Mahi, sailfish, blackfin tuna, and wahoo will all be on the hit list. Try skipping naked ballyhoo on those dead calm days for more strikes. When the bite slows, try deep dropping for tilefish to top off the fish box. You'll need an electric reel and a special "chicken rig" to fish the 650-foot-plus depths for these tasty devils. Watch for the shrimp boats offloading by-catch out on the edge of the Gulf Stream. The blackfin tuna will be mixed in with the bonito and are a blast on spinning tackle. Just chum and chunk some cut bait out there with a hidden hook.
Remember that lobster season starts early this month, so if you scuba dive, get out there and grab a few bugs. If you're fishing, remember to watch for divers anywhere in the vicinity of a boat flying a dive flag. The rule is stay 300 feet away in open water and 100 feet away in a constricted area like the inlet. Stay safe and best of luck out there!
FORECAST BY:  Capt. Randy Lang
Sebastian Gypsy Fishing Charters
gypsycharters@gmail.com
www.sebastianfishingcharter.com