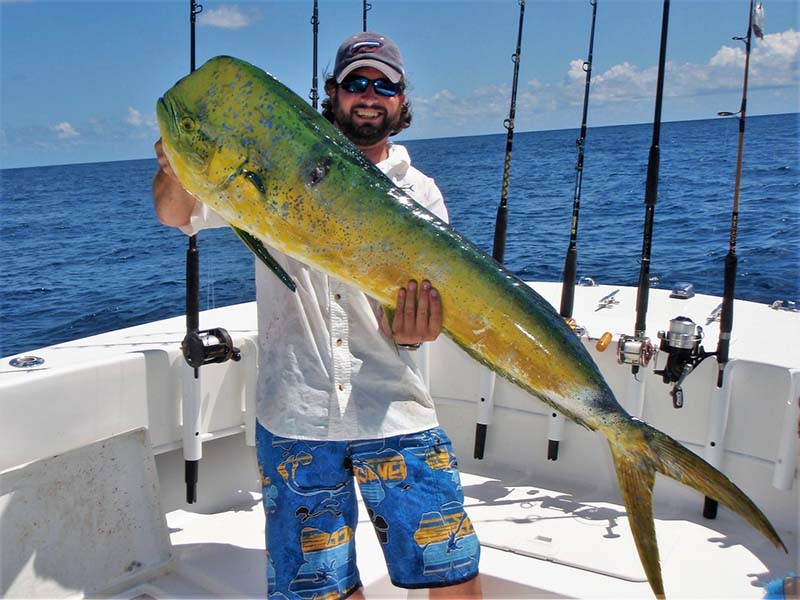 June is an awesome month to fish out of Sebastian. The seas are calm, and the fish are hungry. Dolphin fishing should be steady this month. In addition to big dolphin, schools of smaller mahi show up in our area this time of year. Be ready to stop and chum the water when you find a bunch of schoolies. Have a few light spinning rods rigged with a 1/0 hook and 30-pound leader and throw them a chunk of ballyhoo. When the school fish get finicky later in the day, a fast moving, small lure (like a rattle trap or jerk bait) will trigger a strike when a chunk bait will not.  Remember that in the summer, the dolphin will move in closer to shore as the water warms.  Don't overlook the 70-foot depth if the water is clean and baitfish are present. In the flat seas of summer, I will put more naked ballyhoos in the spread. Sometimes when the trolling bite slows, I'll drop a chum block in the water in an area where I think dolphin are present.  Give it 45 minutes and dolphin will come to the boat if they are in the area. Drift a live bait or whole squid near the surface.
June is also good for bottom fishing. All depths should produce good fishing. Some anglers will take advantage of the calm seas and drop in the deeper waters this time of year.  Getting your bait on a piece of bottom that is marking fish in 150-to-250 feet of water can be a challenge. One technique is to drift over it.  This requires the captain to stay at the wheel and nudge the boat in and out of gear so that the lines are going straight down. Use reverse for easier boat handling. In deeper water you may need to start your drift well up current to hit the spot. A live bait can be deadly for this. This technique requires patience and repetition but will produce some quality fish for diligent anglers. Some other tips are to use braided line to reduce drag in the current and rig a bait that doesn't spin.
June is also great for our mangrove snapper also. Try fishing your favorite reefs very early and late. Chum with a block of frozen chum and/or diced fish chunks from the prep table.   Try freelining with a 1/0 on 30-pound flourocarbon leader and a small piece of bait.  If you feel adventurous, try a night trip around the full and new moons.
Keep an eye out for those thunderstorms this month. If afternoon storms are forecast, get out early and get back well before things blow up. Especially look out for those days when storms are forecast to move offshore.
Best of luck out there!
FORECAST BY: Capt. Randy Lang
Sebastian Gypsy Fishing Charters
Email: gypsycharters@gmail.com
Website:  www.sebastianfishingcharter.com