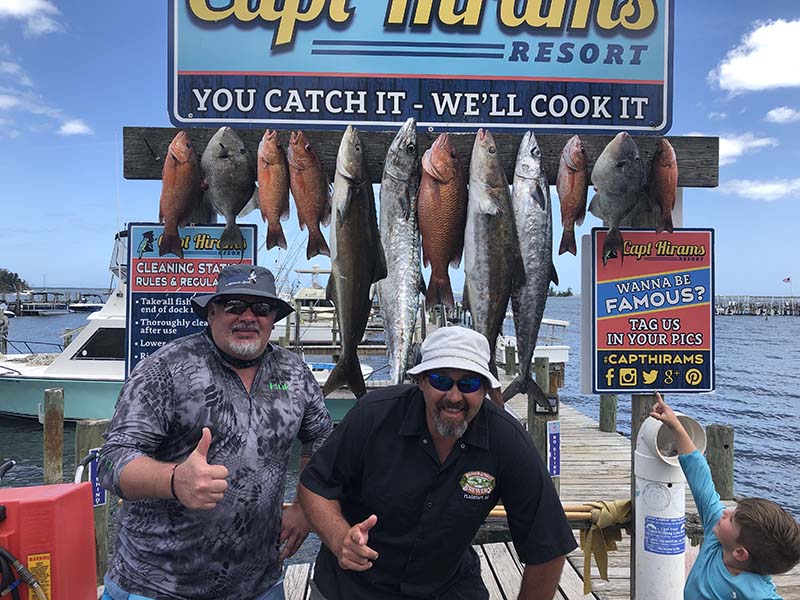 Our grouper season opens May 1. With the current shark problem as bad as it is, (in case you weren't aware), there is a massive abundance of bull sharks and sandbar sharks along with other species due to closures of shark commercial harvesting, which have taken over most areas we fish. Specifically, they congregate around the larger bottom structure. They are gathering in these areas just waiting for you to hook a fish and get an easy meal. They take advantage of anglers that do not reel fast enough making it extremely hard to get a whole fish in the boat. Sometimes we are losing nearly 90% of our larger keeper fish to these predators. We then end up boating mostly the smaller undersized fish because you can reel them in faster…only to be eaten shortly after you release them.
If the South Atlantic Fisheries Management Council doesn't move fast before the opening of red snapper season and do something about the shark problem, imagine how many reds will be eaten!
Big Easy has taken a couple of steps to combat this problem. First, we have upped our leader size. For grouper fishing, we went from an 80-pound leader to 100-pound and 120-pound leaders.  We also use a big reel (Shimano Tiagra 50w's) and very heavy rods.  We sometimes let the weaker anglers reel right out of the rod holder. The theory being "Stop Em' or Pop Em". Second, we are fishing smaller bottom. Whether it's 90 feet, 160 feet or 240 feet, there seems to be fewer sharks congregating on the smaller bottom. I have almost given up trying to get a mangrove snapper off the bottom at the 90 foot High Bar unless its small fish. Please take the time to report any problems you are having with the overwhelming abundance of shark activity to the South Atlantic Fisheries Management Council as well as the governor and anyone else that might make a difference.
May fishing should produce some awesome dolphin fishing in the 120 foot to 300 foot range.  The best part of dolphin fishing is that the sharks won't be a problem since dolphin are following edges, color changes and rips and not near larger bottom structure. Look for kingfish in close as well.
As the clean water moves in, so do the fish. We've already seen some good catches of big kings a couple miles off. Also caught two gag grouper 25 inches to 28 inches in 60 feet recently. When the weather is calm and the water is clear live bait will be well worth the time to collect. If the water is dirty, the smell of the dead bait (menhaden/pogies) will work great.
Always take the time to check fishing regulations before your trip because they change frequently. I use the Fish Rules App on my phone. Be sure you set it to federal water if your fish more than three miles offshore.
That's it for now, good luck and tight lines. Fish on, gotta go!
FORECAST BY: Capt. Terry Wildey
Big Easy Fishing Charters
Phone: (772) 538 – 1072
Email: captwildey@bellsouth.net
www.bigeasyfishingcharters.com