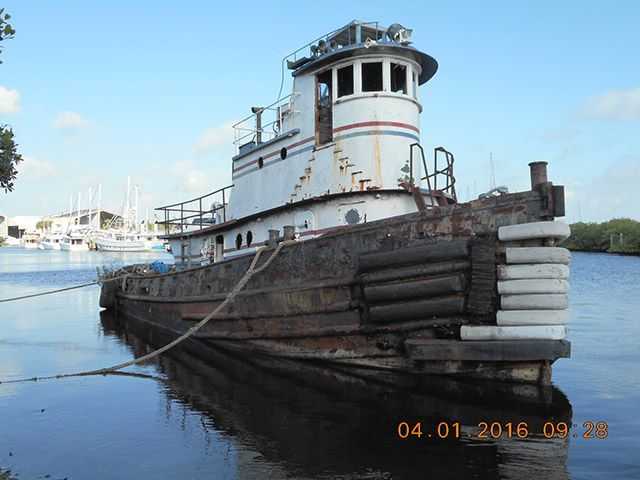 By: Jim Oppenborn, St. Lucie County Public Works Department
[dropcap]T[/dropcap]he St. Lucie County Artificial Reef Program is concerned with providing recreational opportunities for the widest variety of watermen as possible and believes that creating a wide range of diverse habitats in as many different locations will enhance these opportunities. Recently we have teamed with McCulley Marine Services and the Snook and Gamefish Foundation to acquire an 80-foot tugboat to sink offshore as both a fishing and diving attraction. The tugboat had been moored at Prosperity Dredging and was being saved for use as an artificial reef.
The tugboat will be deployed in depths of 120 feet to 150 feet, depending on a stability analysis. Stability will be determined by several factors, including: (1) dimensions of the tugboat, (2) weight of the tugboat, and (3) depth of deployment. Dimensions of the vessel cannot be changed; the weight can be increased however by adding concrete structures to the engine room and the depth of deployment can be modified to increase chances of stability (in general deeper waters promote stability).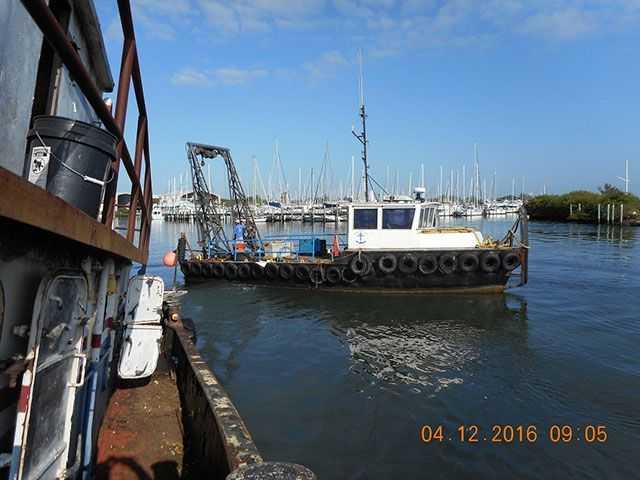 Fish populations documented on artificial reefs offshore of St. Lucie County in the 120 to 150 depth range have included red snapper, scamp, gag, amberjack, and baitfish in addition to many more species. The deepwater coral, Oculina varicosa, has been documented growing on artificial reefs at depths as shallow as 150 feet. Deploying the tugboat in this depth range will create habitat for a diverse fish assemblage, benefitting both anglers and divers.
Cleanup will be intense. Volunteers have already started the first phase of removing all the loose objects (wood, small metal objects, trash and debris) and have placed these objects in a 20-yard dumpster provided by Waste Pro of Florida, Inc. Additional phases will include: (1) removal of heavier objects by crane, (2) peeling away chipping paint, (3) cleaning toxic substances (e.g. oil, grease) that may be in the engine room, and (4) finding and removing any other potential source of contaminants to the marine environment (e.g. PCBs, lead-based paint, asbestos). Cleanup of toxic substances and contaminants is especially important as these materials could be incorporated into the food chain and might eventually end up on the dinner table. Because of this possibility the artificial reef program has been coordinating with the Florida Department of Environmental Protection to ensure that no pollutants will enter coastal waters.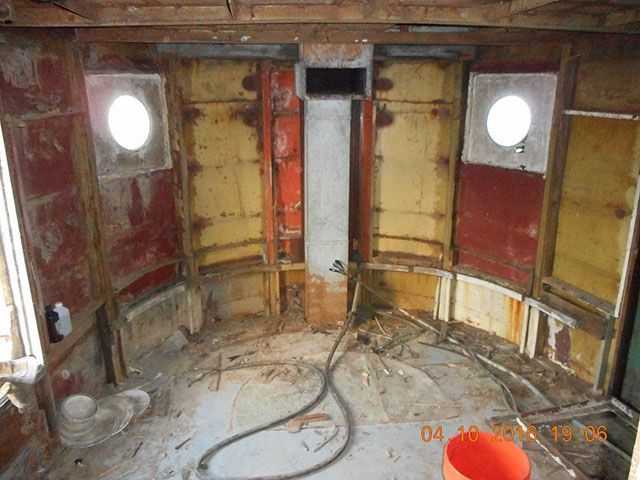 Community interest in deploying this tugboat has been great. The American Dream Factory is planning a deployment party at the Sailfish Brewing Company. A live feed of the deployment will be broadcast to patrons there. To get involved or to find out details, please contact Chris Gosse (772.323.4278). The St. Lucie County Artificial Reef Program is also looking for a non-profit organization or water-related business to auction off naming rights for the new reef.
The St. Lucie County Artificial Reef Program has applied for an artificial reef construction grant through the Florida Fish and Wildlife Conservation Commission (FWC). If approved the County will use this grant funding to purchase 25 locally-constructed artificial reef modules. The modules will be deployed near the tugboat and will create an additional habitat type that will add to the complexity of the artificial reef, benefitting fish stocks and recreational boaters.
If anyone is interested in the St. Lucie County Artificial Reef Program please contact Jim Oppenborn, St. Lucie County Coastal Resources Supervisor at oppenbornj@stlucieco.org or (772) 462-1713.
[easy-social-share]