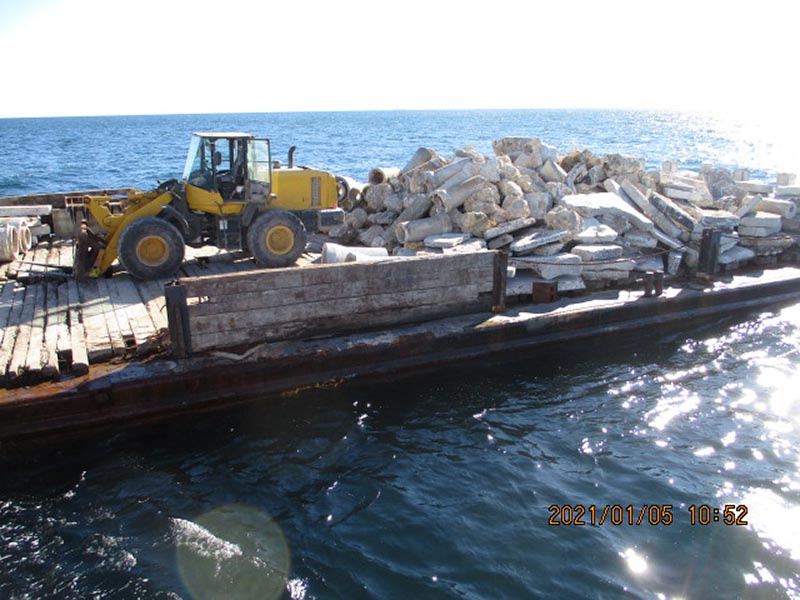 On January 5, the St. Lucie County Artificial Reef Program deployed 500 tons of materials on the Stan Blum Memorial Site in a depth of 55 feet.  Materials included concrete and limestone boulders, culverts, concrete column footers, light poles, and railroad ties.
McCulley Marine Resources had already started cleaning the park and, for four days, sorted acceptable clean concrete materials for this deployment.  The materials selected for this reef were smaller than average but by permit were required to weigh at least 600 pounds per piece, leading to a deployment that required more than five hours.  Materials were deployed so as to maximize cryptic space.  Concrete and limerock boulders were placed first, followed by concrete culverts, concrete column footers, and concrete light poles.  Last to be deployed were the railroad ties.  The footprint of the reef has yet to be determined but is likely to provide low profile habitat favored by fish demersal fish species like gray snapper (Lutjanus griseus) and forage fish like tomtates (Haemulon aurolineatum).  If one of the 40-foot light poles lands on the pile of smaller materials, pelagic forage fish like blue runners (Caranx crysos) might make use of the reef.
Preliminary numbers for this reef are 27o26.052' N, 80o09.687'W.  Volunteer boaters and divers are encouraged to visit the reef to get soundings with a depth recorder or to confirm the reef's location and take underwater photos.
Our next deployment will be of bigger materials (bridge section, reef dart, heavy light poles) left over at the park.  McCulley Marine Resources will use special rigging, including a crane, to deploy these materials due to their weight (greater than 12,000 pounds per piece) and will create the next reef in 90-foot depths or greater.  Some of the materials are 35 feet tall.  By permit, there must be 50 feet of clearance between the top of the materials and the water surface.  If additional materials are needed to round out this 500-ton deployment, local businesses may donate additional large structures which will be loaded directly from a truck onto a waiting barge.
Learning how St. Lucie County's Artificial Reefs are connected with other areas is very important.  For example, in 2018 researchers at Florida Atlantic University's Harbor Branch Oceanographic Institute campus using Baited Remote Underwater Video discovered a tiger grouper (Mycteroperca tigris) on one of the County's deepwater artificial reefs.  This species is usually found in Bermuda, the Bahamas, and extreme South Florida, including the Florida Keys, and the Gulf of Mexico.  To learn more about fish movements between its artificial reefs and other areas, the St. Lucie County Artificial Reef Program will join the Florida Atlantic Coast Telemetry (FACT) network.  This network is a group of over 45 different federal, state, academic, nonprofit, and for-profit organizations that maintain an array of receivers from South Carolina to the Florida Keys and out into the US Caribbean.  The network already has an acoustic receiver on the Civic Center Reef and another acoustic receiver on St. Lucie County's FP&L Reef.  In the last 10 years these receivers have made 95,115 detections of 140 individual fish. The fish detected were a combination of 18 different species including sharks, rays, Goliath grouper (Epinephelus itajara), smalltooth sawfish (Pristis pectinata), red drum (Sciaenops ocellatus), common snook (Centropomus undecimalis), Atlantic tarpon (Megalops atlanticus) and cobia (Rachycentron canadum).
Cobia are a highly migratory species that can be found as far north as the Chesapeake Bay and were first documented cobia on the FishAmerica Foundation Reef in 2010.
For more information on the St. Lucie County Artificial Reef Program, including tagging of fish species on our artificial reefs, contact Jim Oppenborn, St. Lucie County Coastal Resources Coordinator, at oppenbornj@stlucieco.org or (772) 462-1713.