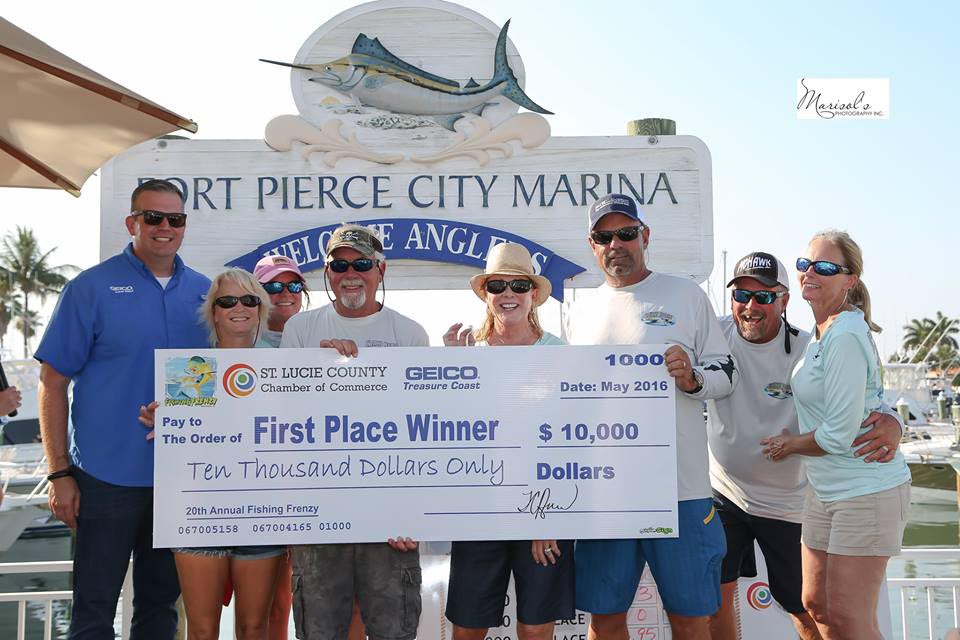 The St. Lucie County Chamber of Commerce will host its 21st annual Fishing Frenzy, presented by Geico Treasure Coast on May 12-13, 2017 at the City Marina in Historic Downtown Fort Pierce.
This offshore dolphin (mahi-mahi) fishing tournament offers $16,000 in cash and prizes, with a $10,000 grand prize for the heaviest Dolphin.
Last year's tournament welcomed a fleet of 110 boats and results were close with less than eight pounds separating first and fourth place.
Capt. Laird Summerlin and his anglers made their way to the stage where their 33.5-pound dolphin inched out the competition to claim first place while Capt. Jessica Manuel and her crew took home second place with a 32.3-pounder, Capt. Josh Tripp and company's 31-pounder earned third place, and Capt. Mike Bartus and his anglers took home fourth place with a 25.95-pound dolphin.
Jessica Manuel was the Lady Angler winner with a respectable 26.3-pound dolphin while James Ivey was the Junior Angler winner with a 22.55-pounder.
Boat entry fee is $250 before May 1st and $275 after May 1st.
There is no cost to sit and enjoy the excitement as the weigh-in takes place! There will also be trivia and prizes between weigh-ins for the audience.
Weigh-in is Saturday, May 13th from 3 p.m. to 6 p.m. The parking garage is open and free for parking convenience.
To register for the tournament online, or for sponsorship information, please visit www.StLucieChamber.org or call the Chamber at (772) 595-9999.
The Unified Chamber of St. Lucie County is an organization of business owners working together to help grow their business through advocacy, education and exposure.