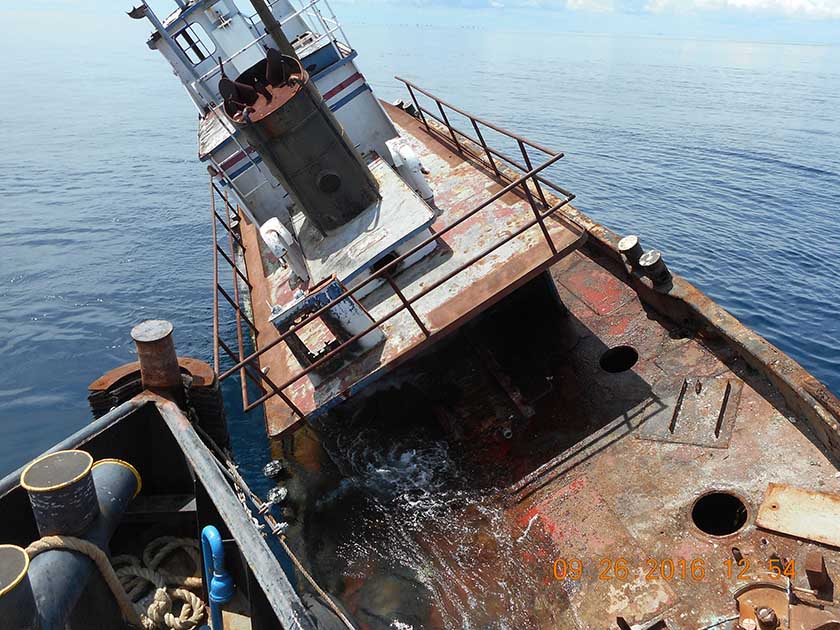 On September 26, 2016, the St. Lucie County Artificial Reef Program deployed the 70-foot tug Kathleen with the help of McCulley Marine Services (MMS), Inc. and SeaRover Services, (SRS) Inc. Concerns over stability in shallower water resulted in the tug being deployed at 140 foot depths.  The new reef is expected to become an additional fishing destination. Even at these depths, Kathleen's 30 feet of profile will provide more experienced divers with an additional recreational destination.  Species like red snapper, scamp, gag, and amberjack frequent artificial reefs at similar depths offshore St. Lucie County.  The deepwater coral, Oculina varicosa, designated an Essential Fish Habitat – Habitat Area of Particular Concern — has been found growing on the Tug Lesley Lee Reef nearby at 150 foot depths.  Corals growing on the Kathleen would increase both the recreational and habitat value of this reef.
Seas were calm for the deployment.  MMS tugboat, the Summer Star, towed the Kathleen though the Fort Pierce Inlet to the deployment location on the Fort Pierce Sportfishing Club artificial reef site.  After SRS conducted a bottom survey to find a deployment location clear of natural hardbottom communities and the Last Mango charter boat delivered press to view the deployment, the Kathleen was anchored to prevent her from drifting away. MMS started filling the Kathleen with seawater.  About 50 minutes later she listed to port and was totally submerged less than a minute afterward.  At 140 feet below the surface, she had righted herself and was resting upright on the bottom.  The entire deployment can be seen online at http://bit.ly/2dnkhNL. The final coordinates of the Tug Kathleen will be available to the public after post deployment dives confirm the tug's final resting place.
Cleanup was thorough.  Two 20-yard dumpsters of loose materials were removed, including wood, fiberglass insulation, metal pipes, and wiring. Peeling paint and glass was removed and doors and hatches were removed or welded open. Heavy equipment (i.e. generators and engines) was hoisted out with an A-frame connected to two hydraulic winches onboard MMS vessel, the Molly. Finally, more than 200 gallons of oil/diesel mixture was pumped off the vessel before her interior was pressure washed.
The Snook and Gamefish Foundation (Brett Fitzgerald, brett@snookfoundation.org, (561-707-8923) and Last Cast Tournaments (Bill Clutter, bill.lastcast@gmail.com, mylastcast.com) will host an inshore fishing tournament to benefit the St. Lucie County Artificial Reef Program in acquisition of an even larger vessel to deploy on one of its artificial reef sites. Interested persons should contact either Brett or Bill.
The St. Lucie County Artificial Reef Program has applied for an artificial reef construction grant through the Florida Fish and Wildlife Conservation Commission (FWC).  If approved the County will use this grant funding to purchase 25 locally-constructed artificial reef modules.  The modules will be deployed near the tugboat and will create an additional habitat type that will add to the complexity of the artificial reef, benefiting fish stocks and recreational boaters.
For more questions on the St. Lucie County Artificial Reef Program please contact Jim Oppenborn, St. Lucie County Coastal Resources Supervisor at oppenbornj@stlucieco.org or (772) 462-1713.
[easy-social-share]