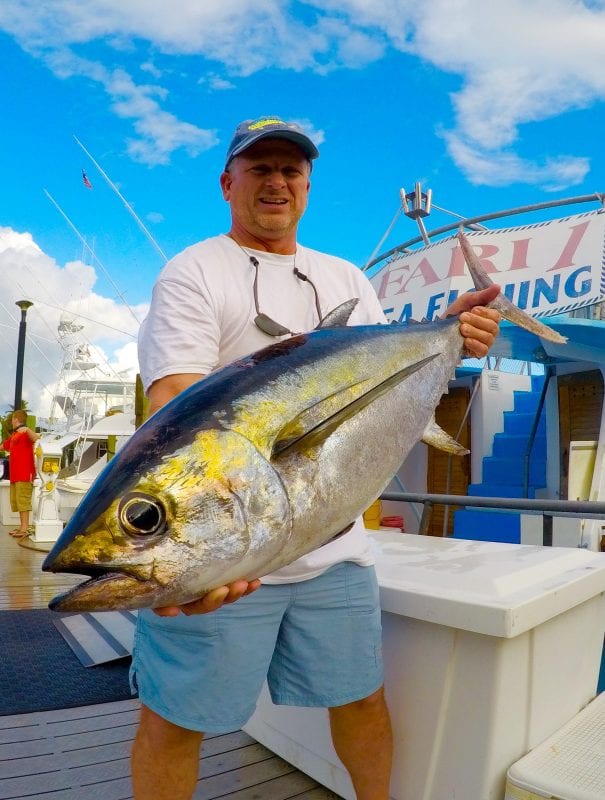 Holiday excitement will clamor inside the souls of all in December. Like many gifts under a decorated tree, a multitude of saltwater fish species will wait just below the choppy surface, and avail themselves as trophy saltwater presents to the offshore anglers of this month. A steady procession of cold fronts will produce "fresh" winds that will in turn rough up the ocean, and oxygenate the near coastal waters, from the northwest, northeast and east. Fish will be active, on the move, and hungry across the entire offshore playing field.
King mackerel, mahi, snapper, and grouper will be the preferred targets of captains and crews plying the waters from 50 to 150 feet as choppy and rough ocean conditions will dictate strategies and force boats to "fish for position" by steering towards wave conditions that will offer the path of least resistance to a fishing spot and create the opportunity for a more comfortable ride home after the fishing day is done. "Fishing for position" will be key this month, as it will allow boats to fish marginal conditions on what is typically a rough ocean during December.
Natural and artificial reefs that are positioned just east and northeast of the St. Lucie Inlet by three to four nautical miles will be a go to fishing zone for all species this month, especially mutton and lane snapper. Lane snapper will congregate in large schools at the base of these reefs and will be caught on 30- to 50-pound tackle, using all types of cut bait, presented on 3/0 to 5/0 size hooks.
While several of these reefs will lend themselves to a "drifting strategy", fishing from an anchored boat will be the more preferable strategy, as the majority of these reefs are relatively small in size, moreover, steep December waves will make a drifting strategy dicey and prohibitive. Have a good anchor, with a sizeable amount of chain, and rode (anchor line) to increase one`s potential for success.
December will be the final month to be able to catch and keep grouper before a seasonal closure goes into effect January 1st. With this in mind, holiday meat hunters will try to make good on their grouper grabbing skills, which will include fishing heavy tackle over naturally occurring reefs in 100 to 150 feet of water. The Eight Mile Reef, east to northeast of Salerno, will be the best zone to find bruiser gag and red grouper. Live baits and large cut baits will provoke the best grouper bites in 140 feet of water, over top of these reef areas.
The anglers of December will hope for stockings stuffed with fishing tackle and dream of freshly caught filets in Ziploc bags.  So, in December, keep a close eye on the offshore weather to determine a user-friendly window and realize your fishing visions on our near coastal waters.  Happy Holidays to all!
FORECAST BY: Capt. Rocky Carbia
Safari I
Pirates Cove Resort and Marina
4307 SE Bayview St. Port Salerno, Florida
Reservations: (772) 334-4411
www.Safari-1.com