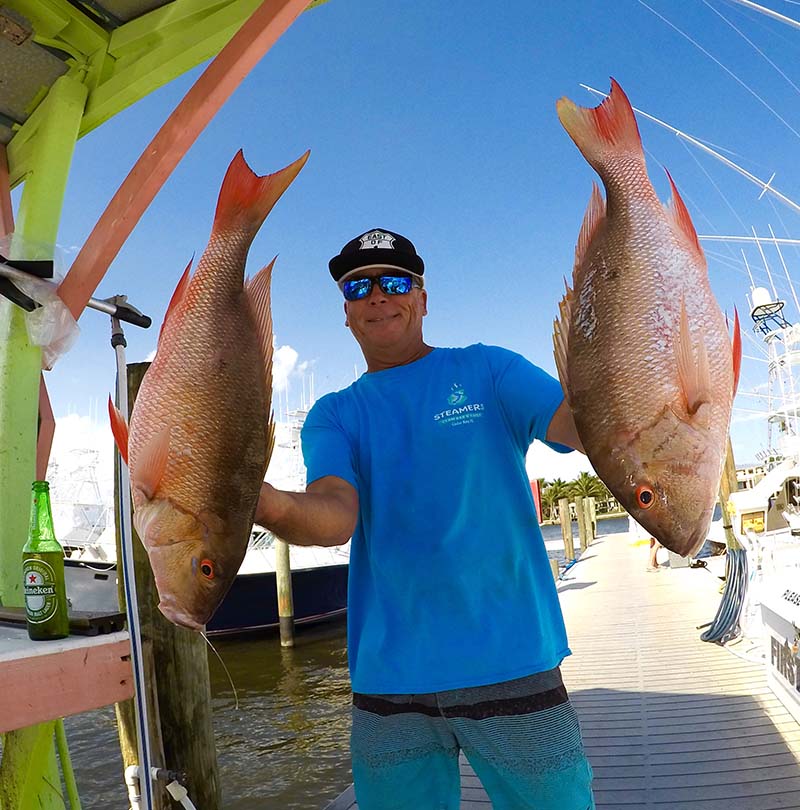 The subtle, yet firmly warm transition to the forever Florida summer will become evident during the days of June. Generous amounts of solar light will illuminate an offshore ocean that will welcome the near coastal anglers of the Treasure Coast. Bottom fishing will again be this month`s best offshore strategy decision for "meat hunting," allowing anglers to target the many species of snapper and grouper that populate area reef zones. The open catch and keep season on most species of grouper will be in full swing during the days of June, as fishing crews continue to dial in their precise positioning skills over top of structures in 70 to 180 feet of water. Deep artificial reefs located in 150 to 180 feet, just east of our St. Lucie Inlet, will be location specific hot spots and will prove to be fish magnets for all species of saltwater fish, especially large gag grouper.
Bottom fishing strategies will also allow fishing crews to deploy a dead stick surface spread of flat lines with live or dead baits that enable fisherman to catch top water species like mahi, king mackerel, and sailfish, while actively bottom fishing at the same time. This method of covering the entire water column will increase all around fishing success and increases the potential for stand-up excitement.
Besides bottom drops on some of our deeper structures, anglers who cherish a snapper dinner, will angle towards the expansive southern reef line in depths of 60 to 80 feet of water, east of Hobe Sound and Tequesta, where many species of snapper tend to reside. Large representatives of the mutton, mangrove, and cubera family of snapper patrol these reef contours and are prize saltwater trophies for even the most seasoned of offshore anglers.
Cobia will also be found among these naturally occurring coral reef zones, known to locals as "The Loran Tower Ledge".
The days of June will offer a sun-toasted backdrop for grocery getting fisherman who fish the entire water column in the near coastal waters of the Treasure Coast.
FORECAST BY: Capt. Rocky Carbia
Safari I
Pirates Cove Resort and Marina
4307 SE Bayview St. Port Salerno, Florida
Reservations: (772) 334-4411
www.Safari-1.com