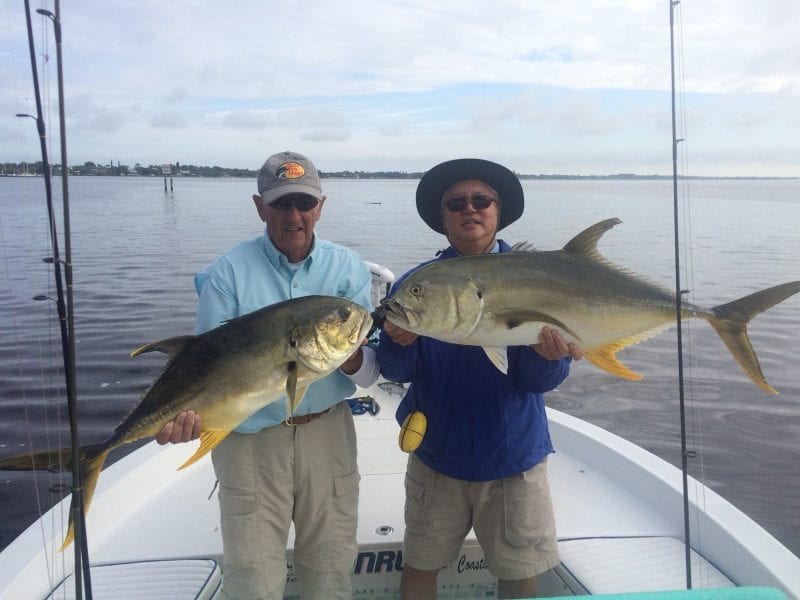 There's plenty of fish to be caught in December. Winds will be picking up out of the north with temps dropping, which will make fishing a little bit challenging at times. Stay on the leeward side of the shoreline for wind protection and you will be fine. In the surf, bluefish will be feeding on anything that moves and can be caught with Krocodile spoons or noisy topwater Chuggers. For sport or meat, the blues will give you a good fight, but watch their teeth chompers. The main concentration of Spanish macs will be down around Peck Lake and riding the incoming tide into the river. A fast retrieve with a green jig on 60-pound leader will do the trick filling up the box if that's what you desire. Try drifting the Sailfish Point flats for pompano and the edges of the channel heading up to the Twenty-Five Cent Bridge. Goofy jigs in yellow or pink bounced right off the bottom will get their attention. A couple good cold fronts should move the flounder into the inlet and river. A simple rig to use is a live finger mullet on a jig head around channel edges and points of land. The black drum, sheepshead and croaker bite is hot around the bridges and inlet. Shrimp tipped jigs or small crabs pinned on a jig head near the bridge pilings and over the rocky bottom around the inlet is the ticket. Snook season is closed but you can still fish for them. If the water stays in the 70s, the fish will feed. Snook will get lock jaw in cold water but if you put a bait in front of their nose they will eat it.
I have been writing this forecast since 2009 and it is time to take a break to let somebody new take over.  It has been a pleasure writing the articles and meeting new people. The fishing community on the Treasure Coast are all highly rated anglers and outdoorsman and I wish all of you the best in the new year. Aloha and good luck.
FORECAST BY: Capt. John Young
Bites On Guide Service
Snook, Trout, Redfish, Tarpon, Kingfish
Phone: (772) 708-3593
Email: [email protected]
PUBLISHER'S NOTE: Capt. John, thank you for your contributions to the magazine over the past nine years! We'll forever consider you part of the Coastal Angler Magazine family. Don't be a stranger—remember to send in those catch photos for the Brag Board. Tight lines and good fishing!