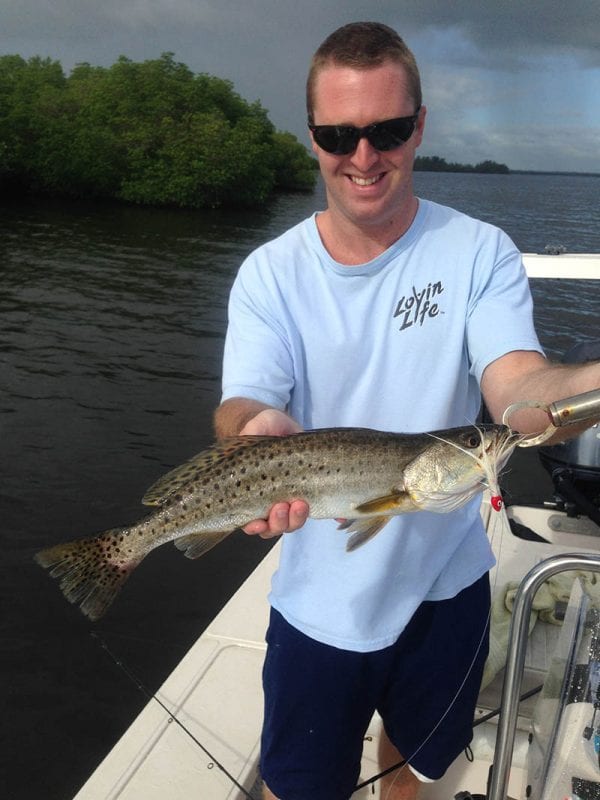 As we settle into the winter months, the fishing continues to change. Our local snook have moved further inshore, away from the inlet, and back toward the St. Lucie and Indian Rivers. Juvenile snook can be found along the mangroves and seawalls feeding on small menhaden minnows. The bigger snook like to sit belly-down on the bottom during the colder months in deeper water. We like to target deep bridges and certain areas of the channel with little current and boat traffic. The medium and big snook can also be found under any big boat at dock in the river. Simply park up-current and pitch a big shrimp or any live baitfish under a big boat and wait for a big hit.
The winter months are sometimes the best months to fish the Indian River from the Sailfish Flats, up north to Jensen Beach. Along the shorelines, you have two options, the east side and the west side of the river. The east side offers endless mangrove shoreline to pitch soft-plastic lures or flies for 15-to-24-inch snook. The east side also offers lots of grass flats to target redfish and trout. The grass flats can be easily found by searching Google Earth. When fishing the grass flats, I prefer drifting instead of using the trolling motor. On windy days, a drift-sock helps a lot by slowing the drift. By attaching the drift-sock midway bow to stern, the boat will drift perpendicular in the wind giving two anglers perfect position, bow and stern, to cast downwind. Some lures I use are D.O.A. C.A.L. Jigs, MirrOdines, Spinnerbaits, Gulp Minnows Bucktail jigs, and topwater MirrOlure Popa Dogs. As the water gets colder, early mornings aren't always the best. When the sun makes direct contact, and the water temp spikes a few degrees, the fishing turns on. Usually 8-to-10 a.m.
The pompano have started to show up for anglers surf-casting from the beaches. Some pompano have been caught north of the St. Lucie Inlet at Tiger Shores Beach and Virginia Forest Beach. The bait of choice is salted clams with incoming tide morning or afternoon. Among the pompano, lots of croakers and some whiting have been caught as well.
FORECAST BY: Capt. Giles Murphy
Stuart Angler Bait & Tackle
(772)  288 – 1219
www.stuartangler.com
[email protected]