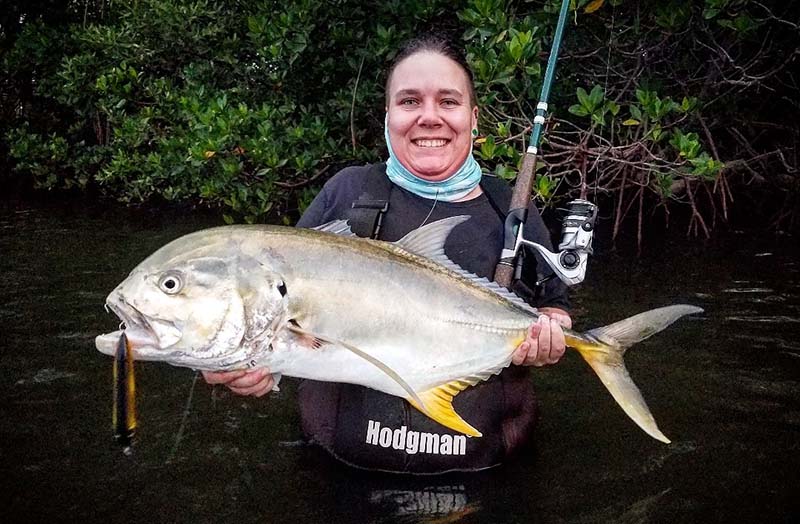 August is my favorite time of year because it is probably the only month that you can target the silver king (tarpon) from land. This is a fish that is very hard to catch, no matter if you are throwing artificial lures or live bait. In large part, the difficulty in catching a tarpon is because of the fish's forceful behavior when it is jumping. Tarpon tend to throw the hook. There is a famous saying when it comes to tarpon fishing, "bow to the king". That basically means when the fish is jumping, point the rod at the fish to create slack in the line that will prevent the fish from breaking your line during the jumps. Also, make sure you beef up your tackle. Fishing for these fish from land will not be for everybody.  Casting hundreds of times with only maybe a couple of good opportunities. It is probably the most rewarding fish you will catch from land no matter if it is 10-pounds or a 110-pounds the silver king will give you a great show.
Throwing four-inch to ten-inch lure, small swim baits and big plugs will definitely be something you want to carry when you are walking the beach or going to the bridges or jetties in search of a tarpon.  There will be plenty of snook, mackerel and jacks mixed in with the tarpon. And the afternoon fishing is when I find very good success. Always follow the tides and be rigged and ready when you get to your fishing spot.
Snook season opens September 1, and I plan on having a really good recipe in September's issue for snook.
Don't forget to have fun while you are out on the water and always try to learn something. This is Jayson Arman of That's R-Man Land Based fishing signing off for now.
FORECAST BY: Jayson Arman
That's R-Man Land Based Fishing Services
Thatsrman4677@gmail.com
(772) 530-8080
PUBLISHERS NOTE: For tarpon regulations, please visit  http://myfwc.com/fishing/saltwater/recreational/tarpon.