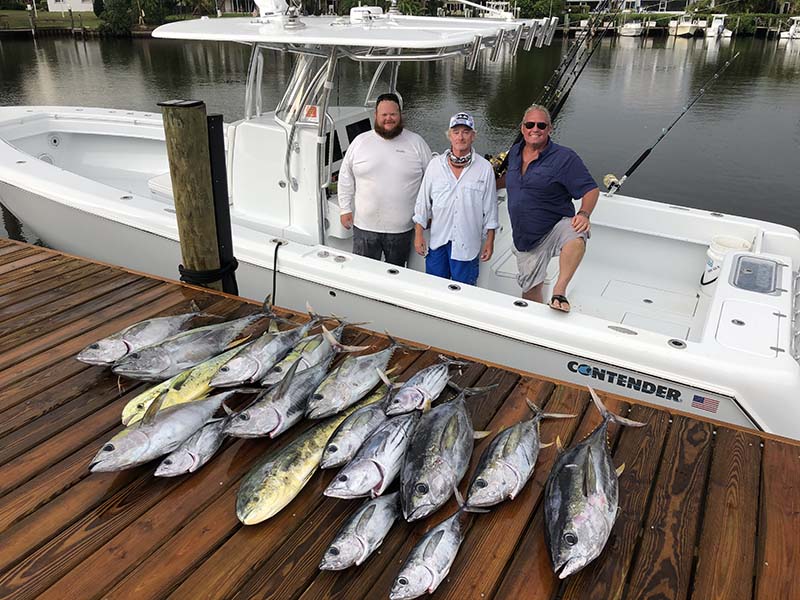 Schooooools out for summer! Exceptions being mahi, sails, tuna, kingfish, jacks, snook, snapper or basically any other fish off the Treasure Coast. This is a great time of year to get out on the water on either a charter or on your own boat and if you're looking to purchase a boat, please call me, I can help. Then, we can take it fishing! Calm oceans, tolerable water temps, and lots of bait make this early summer fishing some of the best in the world.
Expect some of the biggest dolphin of the year to hit the docks this month, along with the occasional wahoo. Focus trolling or live baiting around weed lines, pieces of float and under birds in depths typically from 100 to 1000 feet. That is a big range, but once you find them you shouldn't have to move much.
Look for sailfish, free jumping and finning on calm days, 50-to-150 feet is the average depth but there are always exceptions. These fish can be very finicky at times so a frisky live bait pitched on a light spinning rod with a light leader works great. I use the 7-foot Carbon E Series by Blackfin. They cast a small bait far and have enough backbone to fight large fish effectively. I also use those rods for the tarpon, snook and jacks that are running the beach this time of year which is some of my favorite fishing.
Find kingfish, and this year there have been some huge ones, from 50 to135 feet. Live bait seems to be the ticket for these guys and obviously use a small trace of wire or titanium to attach your hook if you're targeting them.
Tuna fishing is pretty good in June as well so top off those fuel tanks and head east. Whether trolling, live baiting or jigging don't be surprised if a blue marlin shows up to join the party so try and have a rod and bait ready to take advantage of that if such an opportunity arises.
June also offers some great snapper and grouper fishing in our local waters. Check out Capt. Rocky's deep sea fishing report for the scoop on bottom fishing this June This month is one of my favorites and is a great time to get out on the water off the Treasure Coast. whatever you decide to chase, I hope your next trip is Off The Chain.
FORECAST BY: Capt. Scott Fawcett
Off the Chain Fishing Charters
Phone: (772) 285-1055
Email: fishscottyf@bellsouth.net
www.offthechainfishing.com