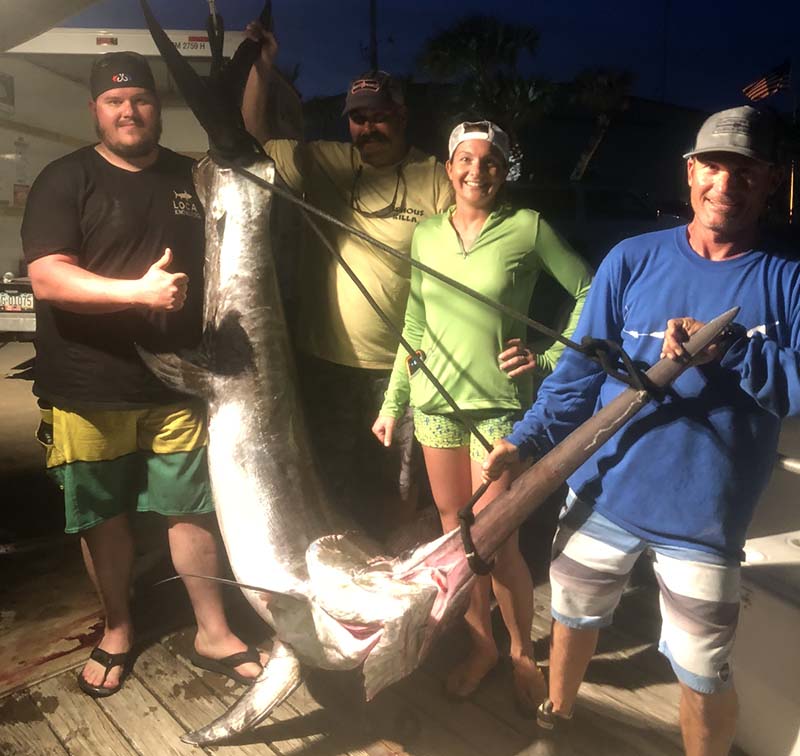 Spring is in the air and it doesn't stop there. With the southeasterly breezes of March, the waters off our Treasure Coast begin to warm. With these warmer waters, expect to see more dolphin, cobia, kingfish, blackfin tuna, and the occasional wahoo hitting the docks. The spring season also kicks off a great swordfish bite out in the deep which we've just now figured out how to hand crank these amazing fish during the day rather than using the electric reels that we have been using. This will be top on any angler's bucket list of fish to catch and techniques to use to do so. Please give us a call at Off The Chain Fishing to schedule your fight with a gladiator today.
Spring also offers better snapper action along the reefs, both day and night but expect to release a bunch of red snapper and out of season grouper while doing so.
March is a great time of year to target just about everything out of Stuart, although compared to the last few months, the sail fishing will be a little slower than it was. If the water is clean enough, I would recommend stopping for some live bait on your way offshore. R&R Tackle (available at all the local tackle shops) makes the best gold hook rigs for catching bait, there are a few extra hooks on each rig, and they are made with light fluorocarbon, so you get more bites and catch quality bait faster, allowing you move on the real target species sooner.
This is also the time of year when you always want to have a cobia jig ready. RonZ Lures makes a great eel imitation to cast at cobia and a newer buck tail jig, which gets the bites too and is more durable than the eel. Even though live baiting is preferred right now, that doesn't mean stop pulling dredges and teasers. Strike Point Tackle makes a wonderful stripteaser dredge, which I recommend while you are live baiting or drifting for all species.
A good pair of shades is even more essential this time of year with sunnier days and the need to see what's behind your new strip teaser. My family, crew and myself only wear Costa Sunglasses and the new Sunrise Silver Mirror glass lenses are amazing for early morning and late in the afternoon low sun or overcast conditions, but I still recommend a grey, or blue mirrored 580 lenses for the sunniest parts of the day.
Check out Capt. Rocky's report for a more detailed description of what the bottom can offer and don't be afraid to mix it up a little. No matter what you like, March is a great time to try and get out on the water to take advantage of Florida's great fishery and weather, and it's only getting better for the next few months. I hope to be hearing from you soon and I hope your next trip is Off The Chain.
FORECAST BY: Capt. Scott Fawcett
Off the Chain Fishing Charters
Phone: (772) 285-1055
Email: [email protected]
www.offthechainfishing.com