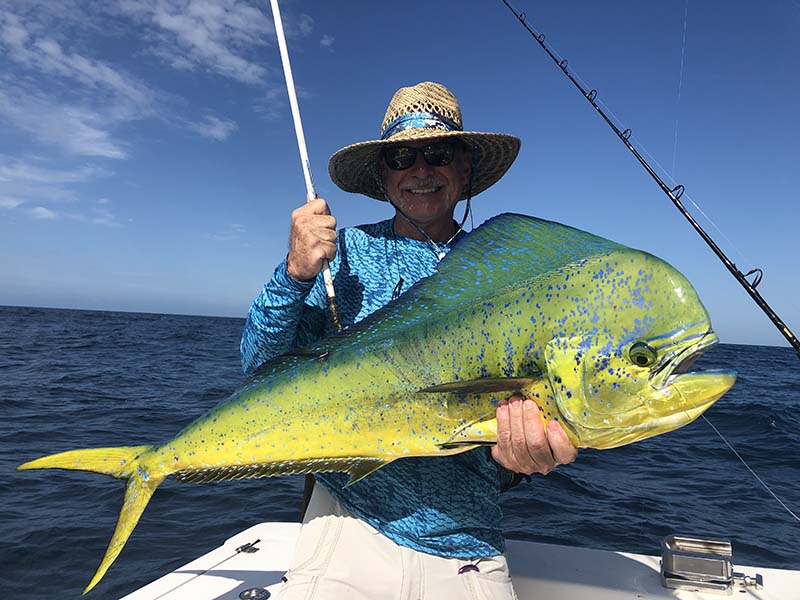 Trolling, live baiting or bottom fishing, late spring has always been one of my favorite times of year fishing off the Treasure Coast. Aside from grouper season kicking off May 1, this month is historically the best one for big dolphin, one of the best for marlin fishing around schools of small blackfin tuna, one of the best to catch a big swordfish or yellowfin tuna—I could go on and on. Plain and simple, May has it all and nice weather to boot.
Try for grouper from 60-to-225 feet. Use chicken rigs with dropper loops tied out of 80 pound, with a heavy-duty hook baited with squid or bonito for red grouper and scamp. Use a 5-to-10 foot shot of 100-to-125 pound leader with a single 3x circle hook with either a live bait or big cut bait down on the bottom for gag and black grouper. Heavy drag and reeling is key to get them away from the reef so you better eat your Wheaties.
When we're not grouper fishing this month, I really enjoy either live baiting over the reef or running out to the deep and swordfishing. Target species would be king mackerel, dolphin, sailfish, blackfin and the occasional wahoo while live baiting. For this I spend most of my time between 75 and 275 feet, there are times when I slide out a little deeper if there's nice conditions, but usually I'm over the reef.
May is also a great time of year to fish around The Hill or any other big seamounts out here. Schools of small blackfin tuna congregate there feeding on glass minnows and small squid and when the stars align, it's a great opportunity to catch blue marlin, big wahoo, big dolphin and everything else. While you can definitely catch big dolphin on live bait out here, I recommend trolling if you're looking for the 30-plus pounders that migrate through in May. Big baits and a faster than average trolling speeds seem to work well for them.
Last, but definitely not least, May is a great month to try some daytime swording. Initially I was a hard sell on it, but it didn't take long to make me realize how exciting it can be. Now daytime swordfishing is one of my favorite ways to spend May.
Whichever style of fishing you decide to do this May, I hope your next trip is Off the Chain.
Please call me to book you next fishing adventure. Capt. Scott (772)285-1055
FORECAST BY: Capt. Scott Fawcett
Off the Chain Fishing Charters
Phone: (772) 285-1055
Email: fishscottyf@bellsouth.net
www.offthechainfishing.com