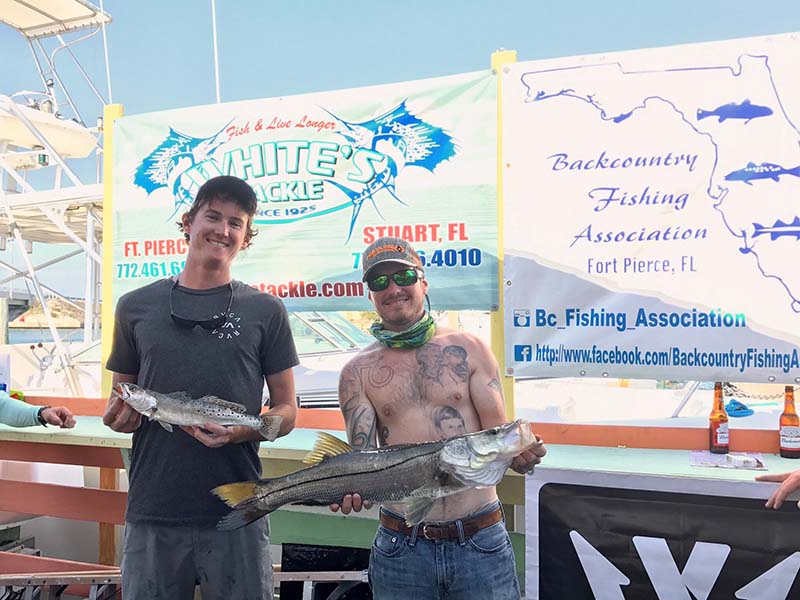 A field of 41 teams and 82 anglers fished in the Backcountry Fishing Association's second tournament of the 2017 season on February 5. Anglers were graced with ideal weather conditions to chase after Indian River Lagoon snook, trout and redfish with artificial lures for cash prizes.
The team of Zack Suit and Chris Mathy won first place and $720 for the combined weight of a 6.71-pound snook and a 1.14-pound trout. Kyle Kaufmann and Brandon Goldstein took second place and $435 for a 5.63-pound redfish. The red also earned the biggest redfish Calcutta of $170.
Third place and $290 was claimed by Max McKinley and Eric Lion with a 3.26-pound redfish and a 1.95-pound trout. Fourth place went to Cross Fischer and Ryan Harris with a 3.86-pound redfish. Fifth place went to Matthew Graham and Jeremiah Johnson with a 3.09-pound trout and 3.18-pound redfish. They also collected $150 for the biggest trout Calcutta.
The Backcountry Fishing Association is an artificial lure only tournament series which will wind up with a two-day Classic in October for the chance to win a 14-foot Billfish Boatworks skiff, motor and trailer. The next tournament is scheduled for March 4.
For more information, visit Backcountry Fishing Association on Facebook.