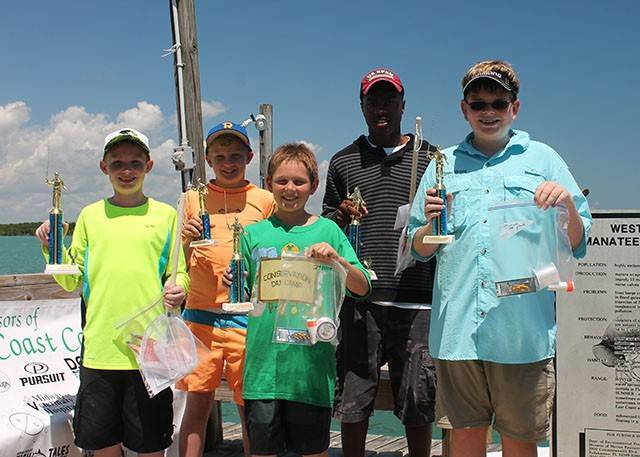 On April 24, 2016, Treasure Coast Casters held its last monthly inshore tournament for the Senior Division for the 2015-16 school year. The next tournament, which will be held in May (after press time for the magazine), will be the Fish Off for the Treasure Coast Caster of the Year.
For the April tournament, boats left the docks from Capt. Joe's Bait & Tackle at 6:45 a.m. armed with a fish list and plenty of live bait. Fish this month on the list were black drum, flounder, mangrove snapper, pompano, redfish, sheepshead, snook, Spanish mackerel and trout. Snook, the big point fish, was worth 50 points. A lot of fish were caught, some on the list and some not. One notable catch was a bonefish, caught by Ty Walker. This was the first time a Treasure Coast Caster ever caught one during a tournament. Ty also caught two trout, with one weighing 2.13-pounds. Michael Rochedieu also caught two trout, one at 2.9-pounds, as well as a nice size pompano.  Brayden Adams brought in a trout and a Spanish mackerel, Andrew Evans caught a trout and a sheepshead, and, Colt Krischke brought in a Spanish mackerel and a sheepshead.
RESULTS
Middle School Division: 1st:  Michael Rochedieu, Ft. Pierce, St. Anastasia – 75 points; 2nd:  Brayden Adams, Ft. Pierce, F.K. Sweet – 35 points; 3rd:  Colt Krischke, Ft. Pierce, Lincoln Park Academy – 25 points
High School Division: 1st:  Ty Walker, Ft. Pierce, Westwood – 50 points; 2nd:  Andrew Evans, Ft. Pierce, John Carroll – 40 points; 3rd:  No results
Ty Walker caught the biggest fish of the tournament, a 2.13-pound trout, and received a trophy and a Fishing Center gift card. First place winners Michael Rochedieu and Ty Walker each received $25 Fishing Center gift cards. All placers received angler goody bags filled with fishing items.
"Many thanks to our tournament boat volunteers Anna Green, Brett Adams, Chad Painter, Capt. Charlie Conner and Capt. Rob Ward.  We could not do this without you," concluded tournament organizers Cammie and Capt. Joe Ward.