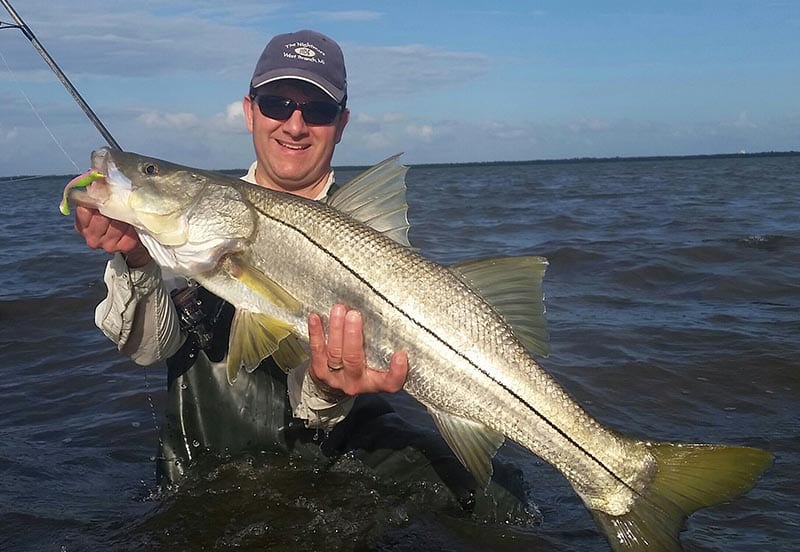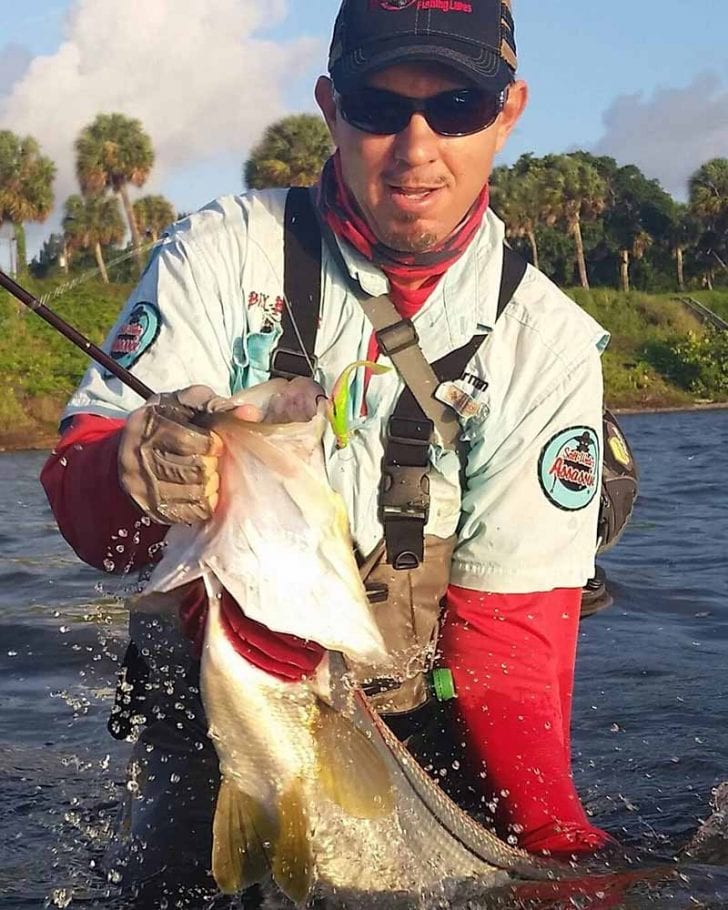 Anticipate a fish of a lifetime in March! Snook will start moving in on the flats and the heat of the day can be when these fish are most active. They will be cruising in very shallow water looking for an easy meal. If you are going to use artificial lures, I would highly recommend a D.O.A. Shrimp in a clear and gold color or Bass Assassin sea shad in the Panhandle Moon color. If you are going to use live bait, I would recommend something in the 3-inch to 4-inch range. Shrimp, mullet, pinfish or small greenies. These fish are not in full-on-summertime-mode, so fishing for these fish in the shallow water can be frustrating because their senses are on high alert. Any little thing can trigger them to get scared.
Moving out a little deeper, the sea trout fishing is normally on fire with lots of good numbers and some bigger fish starting to move in. I think the key to being productive in March is being around the right size bait the fish are eating that day. Some days they will be very picky and will only want to hang around minnows or greenies, and other days you will catch them around schools of mullet not because they are chasing the mullet but because the mullet will be big and will scare up things in the grass for the fish to eat. This is when a live shrimp or a fake shrimp can be deadly!
Towards the end of March into April we should see good numbers of mullet showing up and that will change up fish patterns, going out even deeper to some of the bridges and jetties. This is when looking for good tide is very important. When the tide is screaming very fast, think how hard it can be for those fish to attack your bait or lure. I explain fishing the tides like this. If your friend had a hamburger and he went running past you, how hard would it be to grab that hamburger? If that same person went walking past you, how much easier would it be to grab that hamburger? Think of this reference when you are out fishing and the tide is moving nice compared to when the tide is moving very fast.
I am going to end this month's article with a very short recipe for everybody's favorite, the SNOOK. Having a nice piece of fish normally half of a filet, place the fish in a dish with diced tomatoes and diced onions seasoned with garlic salt, pepper and butter, mixing them in a bowl and then spreading them over the fish, adding a little bit of mango fruit juice, just enough to coat the pan. Cook everything together in the oven for about 35 to 40 minutes at 380°. Cook some rice while you wait for the fish. This is a super simple recipe that I've been cooking for several years. I hope the fishing report and the small recipe will help with your next day on the water or your next adventure in the kitchen.
Jayson Arman signing off for now. Always have fun on the water and don't forget to keep your line wet.
FORECAST BY: Jayson Arman
That's R-Man Land Based Fishing Services
[email protected]
(772) 530-8080