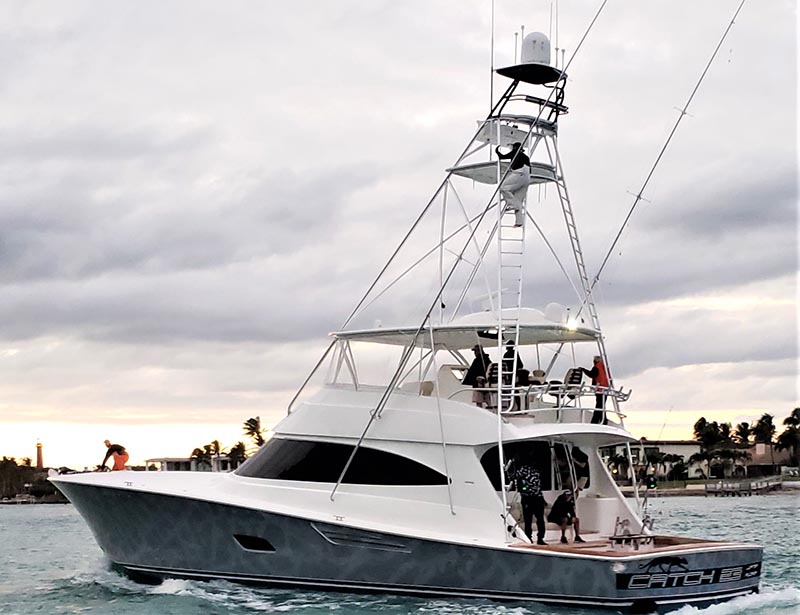 Michael Jordan competes once again in the SSC Light Tackle Tournament
By Ed Killer for CAM
If there is anything we learned from "The Last Dance" documentary, it's that sailfish tournament fishing teams in South Florida better hope they stay on Michael Jordan's good side. If the basketball great ever makes it personal, the tournament titles may start falling his way like last-second jump shots in big games.
For the second time in as many years, Jordan competed in one of South Florida's oldest and longest-running sailfish tournaments: the Stuart Sailfish Club's 67th annual Light Tackle Sailfish Tournament.
Jordan placed third last year during a tournament that featured very rough sea conditions. This year, Jordan's fishing team, aboard his 80-foot Viking sportfishing yacht Catch 23, came in fourth overall after catching and releasing eight sailfish during the event's two days.
Jordan reeled in one of the sailfish, recording a release at 3:31 p.m. Dec. 10. He was fishing with Charles Nicklaus, grandson of North Palm Beach golf legend Jack Nicklaus, as well as Trey McMillan, Mark Nitzel, Mark McDevitt and Danny Young. The boat was skippered by Capt. Stetson Turney.
Jordan drew a lot of attention in spring with the launch of his 10-part documentary on ESPN chronicling the Chicago Bulls' six NBA championship victories over an eight-year span in the 1990s. In summer, Jordan entered at least two marlin tournaments in North Carolina, one in which his boat weighed a 441-pound blue marlin to place ninth in the weight category.
The Light Tackle Tournament was won by one of the Treasure Coast's top sailfish tournament teams and multiple-time billfish tournament winner Vintage, owned and led by Capt. Hans Kraaz of Fort Pierce. The team — Hans Kraaz Jr., Hunter Kraaz, Michelle Keeney, Tom Garmony, Matt Webber and Cole Bates — caught and released 21 sailfish in two days.
Game Changer (14) led by Capt. Bryce Garvey and Lo Que Sea (12) led by Capt. Mike Everly made it three straight sailfish tournaments placing in the top three.
The tournament served as a fundraising event for the Humane Society of the Treasure Coast and the Leidner family of Stuart, whose daughter, Victory, 9, has been battling lymphoma.