by Keith Hudson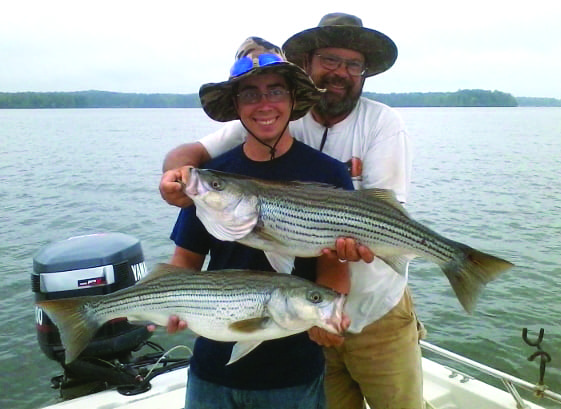 Bass: Fair – The shallow bite remains fair now and will hopefully improve even more, especially with higher than normal lake levels and continued cooler temps. Baits such as unweighted Flukes, Senkos, buzzbaits and Rebel Pop-R's are catching bass. Try to fish these baits in or near cover or around schools of shallow baitfish. Fish the open water in the pockets with a Whopper Plopper, Rat-L-Trap or an A-Rig. Also, it doesn't hurt to have a jig handy to pitch around any wood cover. It won't produce a lot of bites, but it's a good way to catch a bigger fish. By the end of the month, especially if it cools off quickly, the big schools of spots mixed with hybrids, white bass and stripers can be caught on jigging spoons and drop-shot rigs and shaky head rigs on deeper offshore structures.
Linesides: Good – The downline bite with shad or bass shiners has improved as the water has cooled off. Freelining a live bait will also work at times. Most of the fish seem to be holding 20 to 30 feet deep when they are not schooling on the surface and are still moving around a good bit. Expect the topwater fishing to continue to improve and be best very early, very late or on overcast or rainy days as the water cools. Gulls and loons usually show up in November, which makes it easier to pinpoint schooling stripers. A popping cork rig has been working on schooling 1 to 3-pound fish with an occasional bigger one mixed in. A 3/8 or 1/2-ounce white Rooster Tail, a chrome C.C.  Spoon and a number of other small shad imitators have also been producing, and the colder it gets, the better the fishing usually is. As the water cools, a bucktail jig becomes very effective as well. The mouths of most creeks south of the 109 bridge and the edge of flats near the dam have been holding some fish. Trolling with mid-depth crankbaits and Alabama Rigs has also been producing some linesides in these same areas.
Crappie: Good – Try tight line fishing with minnows or a 1/16-ounce or smaller jig around bridge pilings, brush piles and blow downs in 6 to 15 feet of water. Concentrate on trees and brush that are close to the old creek channels. Pitching or shooting docks with small tube or feather jigs around or under the docks is also a very good technique during fall. As usual, crappie seem to love shade and cover. Cooler temps and the recent rain should improve the fishing even more. Yellow Jacket, Wolf and Whitewater Creeks are still producing good strings of crappie.