---
By Joe Gugino, Why Knot Fishing Co-Founder
It's go time! May is when the stripers will show back up here in Boston, and Boston's North Shore! Last month, stripers showed as early as April 15 down in Rhode Island and on Martha's Vineyard, and they have continued to migrate north. As you get excited and go target migratory striped bass for the first time in 2016, plan to target back bays and estuaries, as those are areas where the fish head first. The warmer water attracts the stripers, and some of the most effective tides are the late afternoon outgoing tides. The water has been able to heat up at high tide in the afternoon sun, and as the tide starts to go out the fish are active and feeding.
When you are considering what to use to catch stripers, I highly suggest small soft plastics or smaller flies. The earlier push of fish are on smaller bait, so my go-to's are an Al Gag's Whip-It Fish on a 1/8 or 1/4 oz. jig head. My go-to flies are usually small white or white/yellow/olive clousers and deceivers from Mud Dog Flies or the Fly Pack.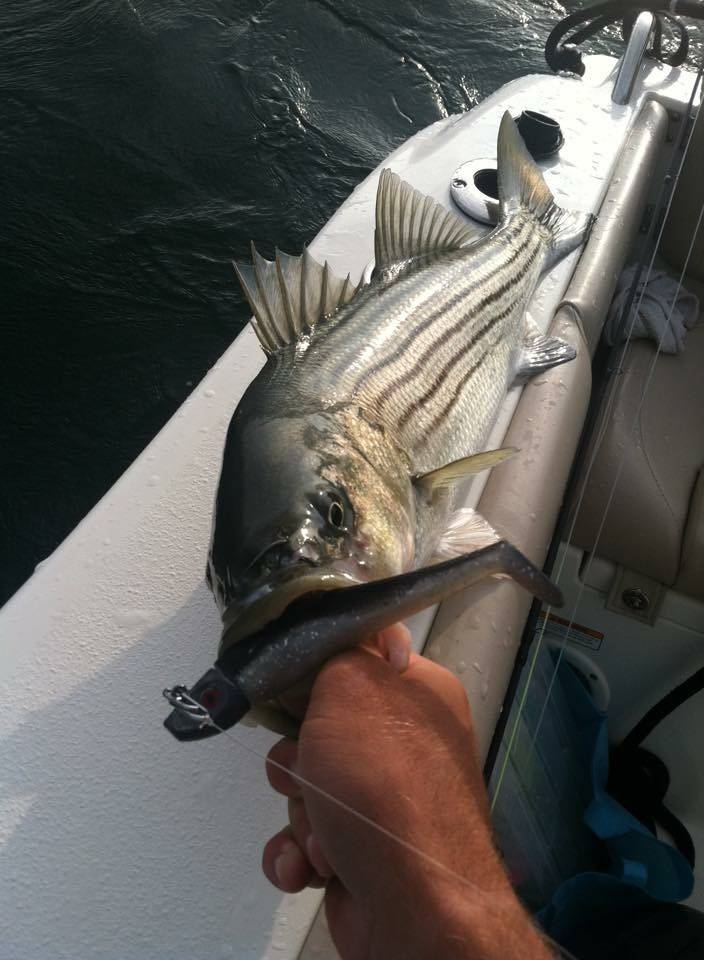 Earlier in the month, I'll use my light tackle rod with my Cheeky Cydro 3500 series reel, medium-light rods, and 20-pound braid. Towards the end of the month I will start using my heavier set-ups with my Cheeky Cydro 4500 and 5500 series reels, with medium-heavy rods, and 30-pound braid. Also towards the end of the month is where I will start using larger soft plastics, like the Cobra Bait 7-inch and 9-inch Sad Shad. And that is also when we will start to throw our favorite big topwater lures like the 247 Lures Elite Mully.
May also marks Why Knot Fishing's 3rd Annual Fishing Season Launch Party! This year the event will be held on Friday Night May 15th from 6:30 – 9:30pm on Boston's North Shore. We will have many of the best fishing companies and charter captains from around Boston's North Shore and New England! This free event will include the opportunity to gear up with some fishing gear, book some trips for the year, and meet other excited and passionate anglers from around the area. There will be a huge free raffle that night as well for all attendees. The next morning, we will be gathering in the area on the water for a mini-fishing derby, Take A Kid Fishing event, and gear demos. Visit us at whyknotfishing.com for all the details, or contact us at whyknotfishing@gmail.com.
As you get started with your 2016 fishing season, it is a good time to consider some goals. Personally I want to catch my first 40-inch striper on the fly rod, and my first jumbo bluefin tuna. If your goal is to catch your first striped bass, first striped bass on the fly rod, or first striped bass from the kayak, make sure to reach out and let us know! For the second year in a row, we will be running Hobie Kayak Fishing Charters on Boston's North Shore with Little Harbor Boathouse in Marblehead, MA. Our first Kayak Fishing Meet-up of the season is on Thursday evening May 26th and we will be doing events and charters all summer long. Good luck and tight lines this season!
---
FORECAST BY: Joe is a life-long fisherman, who fell in love with the sport when he moved to the North Shore and started fishing in saltwater for striped bass. After fishing from a kayak for the first time, he became even more excited about (and obsessed with) fishing. Joe is also the co-founder/co-owner of Why Knot Fishing, a community-based fishing organization.